Covering the Birthsuite can be wonderful and terrifying. Neonatal resus should be both easy and scary, every time. If you're not even a little, tiny bit scared, you're quite possibly "doing it wrong", and almost always, sticking to the algorithm ensures that you do the right thing for the patient.
This post shares a few of my own tips & idiosyncrasies in preparing for and undertaking neonatal resus, particularly in the regional setting where a tertiary NICU isn't just a buzzer and short walk away. It's by no means the full course; I strongly recommend you do a NeoResus course with simulation training before you're anywhere near the Birthsuite. This post is more along the lines of tips, tricks & philosophies to augment the standard of care you'll learn on the NNR program.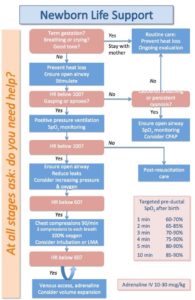 20. In summary…
Neonatal resus is both simple and scary. The bottom line is:
Do a NeoResus course
Stick to the basics of A,B,C & D.
Set up the same way each time.
Get someone to TAP the heart rate.
Introduce yourself and explain what is going on.
References:
Probyn ME et al. Positive end expiratory pressure during resuscitation of premature lambs rapidly improves blood gases without adversely affecting arterial pressure. Pediatr Res. 2004 Aug;56(2):198-204. Epub 2004 Jun 4. – https://www.ncbi.nlm.nih.gov/pubmed/15181198
NeoResus programme – https://www.neoresus.org.au/pages/index.php
ARC guidelines for Newborn Life Support – https://resus.org.au/?wpfb_dl=8
DFTB – Andy Tagg; Neonatal Resuscitation Vodcast – https://dontforgetthebubbles.com/vodcast-week-neonatal-resuscitation-2/
DFTB – Ben Lawton; Premature Birth in a Regional Hospital – https://dontforgetthebubbles.com/premature-birth-regional-hospital/
Armstrong L, Stenson BJ. Use of umbilical cord blood gas analysis in the assessment of the newborn. Archives of Disease in Childhood Fetal and Neonatal Edition. 2007;92(6):F430-F434. doi:10.1136/adc.2006.099846. – https://www.ncbi.nlm.nih.gov/pmc/articles/PMC2675384/
Halliday HL, Sweet DG. Endotracheal intubation at birth for preventing morbidity and mortality in vigorous, meconium-stained infants born at term. Cochrane Database of Systematic Reviews 2001, Issue 1. Art. No.: CD000500. DOI: 10.1002/14651858.CD000500. https://onlinelibrary.wiley.com/doi/10.1002/14651858.CD000500/abstract;jsessionid=C698844E8E4F962282FE64763EF88FE6.f01t02
Perlman, J et al. on behalf of the NEONATAL RESUSCITATION CHAPTER COLLABORATORS. Special Report Neonatal Resuscitation: 2010 International Consensus on Cardiopulmonary Resuscitation and Emergency Cardiovascular Care Science With Treatment Recommendations.  Pediatrics published online Oct 18, 2010; DOI: 10.1542/peds.2010-2972B – https://www.neoresus.org.au/pages/documents/SpecialReportNeonatalResuscitation2010Consensus.pdf