Cite this article as:
Henry Goldstein. Twenty tips to take your Neonatal Resus to the next level – Part 2, Don't Forget the Bubbles, 2015. Available at:
https://doi.org/10.31440/DFTB.6831
Covering the Birthsuite can be wonderful and terrifying. Neonatal resus should be both easy and scary, every time. If you're not even a little, tiny bit scared, you're quite possibly "doing it wrong", and almost always, sticking to the algorithm ensures that you do the right thing for the patient.
This post shares a few of my own tips & idiosyncrasies in preparing for and undertaking neonatal resus, particularly in the regional setting where a tertiary NICU isn't just a buzzer and short walk away. It's by no means the full course; I strongly recommend you do a NeoResus course with simulation training before you're anywhere near the Birthsuite. This post is more along the lines of tips, tricks & philosophies to augment the standard of care you'll learn on the NNR program.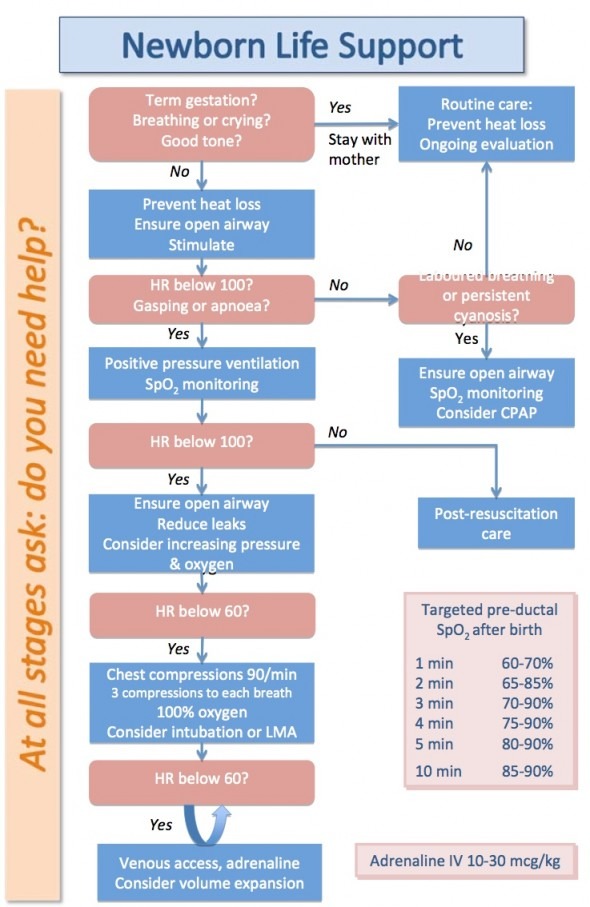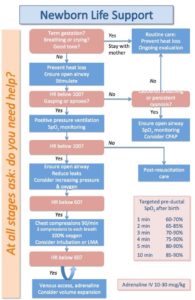 In most centres, the Paeds reg is only called to medium to high risk deliveries. In these situations, cord gases are indicated. If you're called unexpectedly to a flat baby, likewise, cord gases are indicated. If things aren't going to plan in a delivery, it's easy to forget to take cord gases, asking for them early can allow the obstetric team to double clamp the cord, and take gases when mum is safe – my obstetric colleagues tell me that within 30 minutes a reliable gas can be obtained, although the literature states up to 60 minutes, provided the cord has been double clamped (Armstrong et al).
Turn the heater to 100% on arrival. Have at least two warm wraps & two towels. You want enough wraps to be able to warm, dry and stimulate the neonate well, accounting for the aim of going to mum afterwards. It is unlikely that doing chest compressions on a huge pile of fluffy towels is effective, so make sure the base of the trolley has some firmness to it, just in case.It's nice to give babies a hat early on, and frankly essential if they're to stay warm in the well-chilled operating theatres with Mum afterwards.
As a resus progresses, it's easy to overheat them. Adjust the temperature down, and if the bub feels warm and there's a spare set of hands, you can ask for a temperature early.
Often in theatres, or after an instrumental delivery, a baby may be passed across with the metal cord clamps attached. These can get very hot very quickly, so if there's a prolonged resus be sure to move them away from the baby's skin and, in particular, away from the genitals.
So, with the above in mind, I set my up resuscitaire the same way every time. It makes sense that if you need something in a hurry, you don't want to have to be searching for it or fumbling around. Thus, I arrange my trolley this way:
Is it plugged in and on?
Oxygen/medical air, suction attached?
Heater to 100% initially.
A couple of towels/wraps, as above.
Left front, under the corner of the mattress is the laryngoscope, with a #1 straight/Miller.
On the left side is the Neopuff mask and tubing. Check the pressures are set at 30/8.
Right front, at the edge of the mattress is an ETT with introducer. I don't often cut them for length.
On the right side is the suction, with a size 8 FG attached.
On the right side of the trolley is the SaO2 probe and a length of tape.
In the back right corner is the meconium aspirator.
Although preparation of this is usually left to the midwifery staff, it's good form to help check it being drawn up if there's no-one else available. There can occasionally be trepidation or resistance from parents to the use of IM Vitamin K; I won't go into the large body of evidence for the prevention of vitamin K deficient bleeding of the newborn. It also means you can ask for it to be given when you're in need of some additional stimulation during a resus.
Somehow, I got in the habit of running through a spiel with my assistant prior to any delivery I attended with some time up my sleeve. The spiel is almost identical when given to med students, midwifery students and midwives who I've resuscitated with more than a few times.
Firstly, demonstrate that I've checked the trolley, pressures, backups.
Next identify roles.
Talk through the likely scenarios.
"I'm happy to start the clock, whilst you bring baby over (in theatre or instrumental). If bub comes out pink & squawking, we'll warm, dry & stimulate. Otherwise, I'll be on the airway, and you're going to tap out the heart rate. We know that this (tapping at 120+/min) is good, and this (tapping at 40/min) is bad. In the middle we can work out. If you can't feel a heart rate, listen to the chest, and I'll listen too. If the HR is less than 80, we'll breath for the child. If the child is not breathing, we'll breath for the child. If the heart rate is still less than 60, I'll ask you to do compressions. If you're not happy or there's something I'm not seeing, I want you to tell me."
Before the birth:
Introduce yourself to the parents – from their point of view, you should be so lucky to be at the birth of their child!
Ask the parents names.
After the birth & resus:
Congratulate them!
Explain what has happened.
Provide appropriate reassurance.
Invite questions.
Explain the expected course. If the child is well, rather than saying "Nothing for me to do here", say "Another doctor will check your baby before you go home. If you are worried, tell the nursing staff and they'll let me know."
For a baby requiring ongoing respiratory support, a cuddle with mum is not appropriate, but it's good to try and enable mum touch or see her baby. This isn't always possible, but acknowledging it tends to help; it is a very fine line between the perception of saving the baby & stealing the baby away to the nursery. Don't whisk the baby away without tags – they need to be adequately identified before leaving the room!
If the baby is now well but requires an IV for antibiotic prophylaxis for presumed sepsis, explain the process; if there's been an 'unexplained resus', or there's any other setup for sepsis, that's what will be happening next. Invite a support person to accompany baby to the SCN.
Respect your own limits.
In addition to the consultant, call for your experienced SCN staff early.
Have them bring the 'cat 1' box of tricks, which will include:

Adrenaline
Umbilical lines
Chest drains

Remember, in pinch, anaesthetists may have recent infant intubation skills.
Most of this post is about the things you can do if there's time to prepare. sometimes, it's a "flat baby, come now" situation. Get to the basics – suction & ventilation and specifically ask:
"What is the gestation?"

"Was there any meconium in the liquor?"

"How long has the baby been out?"
Remember your PPE, there is always time to put on a pair of gloves. Start the clock if it hasn't been started already, and don't forget to say who you are to the team & parents.
 20. In summary…
Neonatal resus is both simple and scary. The bottom line is:
Do a NeoResus course
Stick to the basics of A,B,C & D.
Set up the same way each time.
Get someone to TAP the heart rate.
Introduce yourself and explain what is going on.
References:
Probyn ME et al. Positive end expiratory pressure during resuscitation of premature lambs rapidly improves blood gases without adversely affecting arterial pressure. Pediatr Res. 2004 Aug;56(2):198-204. Epub 2004 Jun 4. – https://www.ncbi.nlm.nih.gov/pubmed/15181198
NeoResus programme – https://www.neoresus.org.au/pages/index.php
ARC guidelines for Newborn Life Support – https://resus.org.au/?wpfb_dl=8
DFTB – Andy Tagg; Neonatal Resuscitation Vodcast – https://dontforgetthebubbles.com/vodcast-week-neonatal-resuscitation-2/
DFTB – Ben Lawton; Premature Birth in a Regional Hospital – https://dontforgetthebubbles.com/premature-birth-regional-hospital/
Armstrong L, Stenson BJ. Use of umbilical cord blood gas analysis in the assessment of the newborn. Archives of Disease in Childhood Fetal and Neonatal Edition. 2007;92(6):F430-F434. doi:10.1136/adc.2006.099846. – https://www.ncbi.nlm.nih.gov/pmc/articles/PMC2675384/
Halliday HL, Sweet DG. Endotracheal intubation at birth for preventing morbidity and mortality in vigorous, meconium-stained infants born at term. Cochrane Database of Systematic Reviews 2001, Issue 1. Art. No.: CD000500. DOI: 10.1002/14651858.CD000500. https://onlinelibrary.wiley.com/doi/10.1002/14651858.CD000500/abstract;jsessionid=C698844E8E4F962282FE64763EF88FE6.f01t02
Perlman, J et al. on behalf of the NEONATAL RESUSCITATION CHAPTER COLLABORATORS. Special Report Neonatal Resuscitation: 2010 International Consensus on Cardiopulmonary Resuscitation and Emergency Cardiovascular Care Science With Treatment Recommendations.  Pediatrics published online Oct 18, 2010; DOI: 10.1542/peds.2010-2972B – https://www.neoresus.org.au/pages/documents/SpecialReportNeonatalResuscitation2010Consensus.pdf
If you enjoyed this post, why not check out our online courses at DFTB Digital