Two year old Joseph and four year old Jacques are visiting your emergency department today. Jacques has been miserable and pulling at his right ear. His parents are concerned that he may have another ear infection, his fifth this year. As you come back in with the otoscope little Joseph starts to cough and turn blue. What's happened?
Bottom line:

Choking is most common in children under five years of age
The most lethal non-foodstuff seems to be latex balloons
Know how to perform basic first aid – do a PLS or APLS course
Here is the APLS algorithm that you can find, freely available, on their website.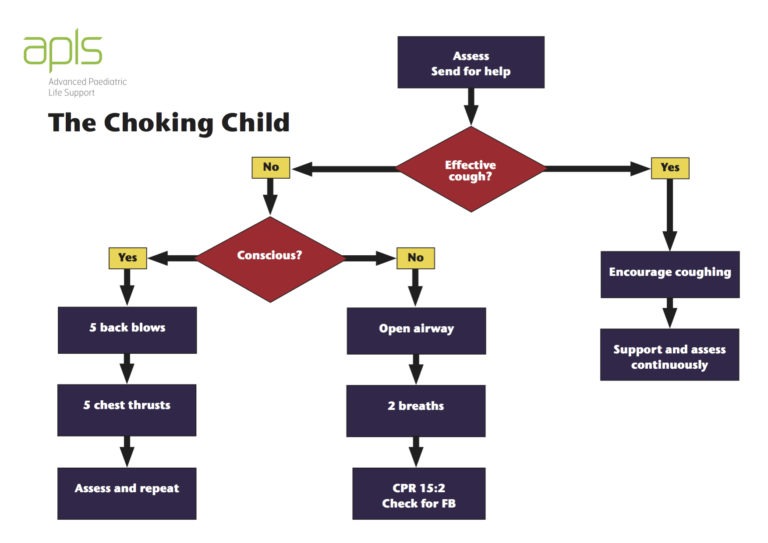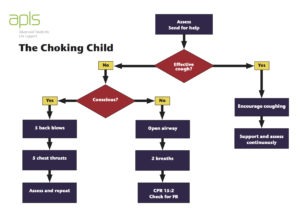 If Joe was coughing effectively you would sit him upright and encourage him to do so. As he does not appear to have an effective cough and is turning the colour of a Smurf you should move to the left side of the algorithm.
It's time to be more aggressive and give five strong back blows, between the shoulder blades in an attempt to dislodge the foreign body. In young children this is probably easier with them laying down your leg with their head down. These back blows should be alternated with chest thrusts.
You are going to have to move on to basic life support – opening the airway, removing any visible obstruction (no blind finger sweeps!) and give two, effective rescue breaths.
Choking is a relatively common cause of mortality and morbidity in children under three years as they become even more eager to explore their environment with their mouths. Whilst all sorts of foodstuffs may cause choking – hot dogs being a particular culprit – latex balloons are the leading cause of non-food related choking fatalities.
One of the core skills of any aspiring paediatrician is keeping patients, and their siblings, on their side throughout the consultation. We can employ many different distraction techniques from blowing bubbles, using finger puppets and balloon twisting. Most of us don't carry a handy supply of modelling balloons in our pocket so we reach for the next best thing, the disposable latex glove.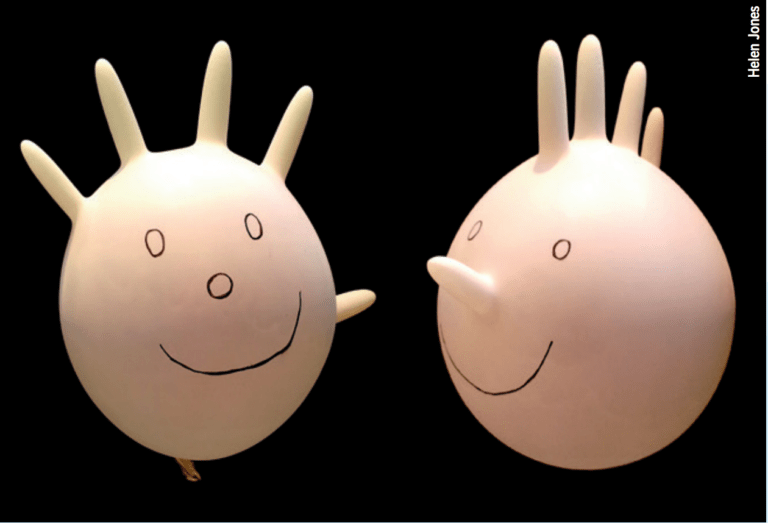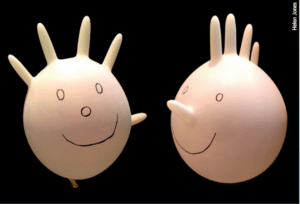 Fierce debate rages as to which form of glove balloon model is most effective in calming a crying child with Irish authors recommending the 'Jedward' style over the more traditional Mohawk, Australians favouring the shark, and Americans the elephant. (Editors note – I prefer the chicken)
Case resolution
A couple of stern back blows and Joseph coughs up a sticky wad of blue rubber resembling a half chewed thumb. You decide to try an alternative distraction technique next time.
Please feel free to tweet us your best balloon images, but don't let the kids play with them.
HT Tim Horeczko (@EMtogether) and Jen WIlliams (@DrJenWilliams) for the inspiration for this post.
References
Walner, David. "Preventing choking in children." AAP News (2011).
Denny, Sarah A., Nichole L. Hodges, and Gary A. Smith. "Choking in the Pediatric Population." American Journal of Lifestyle Medicine (2014)
Dias, E. "An unusual case of foreign body aspiration in an infant." Annals of medical and health sciences research 2.2 (2013): 209-210. full text
Ryan, C. Anthony, et al. "Childhood deaths from toy balloons." American Journal of Diseases of Children 144.11 (1990): 1221-1224.
Abdel-Rahman, H. A. "Fatal suffocation by rubber balloons in children: mechanism and prevention." Forensic Science International 108.2 (2000): 97-105.
Fogarty, Eoin, et al. "The 'Jedward'versus the 'Mohawk': a prospective study on a paediatric distraction technique." Emergency Medicine Journal 31.4 (2014): 327-328.
Hugman, Andrew, et al. "The Shark that does not bite: an Australian rubber glove distraction technique for distressed children." Emergency Medicine Journal(2014)
If you enjoyed this post, why not check out our online courses at DFTB Digital