In a previous study, the authors of this paper found that Jewish children in the UK had 10 times the rate of peanut allergy as Jewish children in Israel. This also correlated with the earlier introduction of peanuts in Israel due to a tasty snack called Bamba.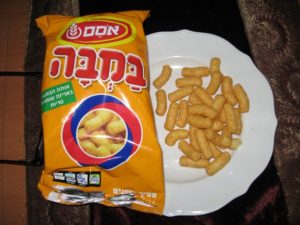 Following the discovery of these results, the hypothesis was that the early introduction of peanuts led to a reduced rate of peanut allergy. And so the LEAP study (Learning Early About Peanut allergy), that you've been reading about all over the media this week, was born.
The results seem fairly conclusive – peanut consumption was associated with an 86% reduction in peanut allergy at 60 months of age (among participants who had had negative results on a peanut-based skin-prick test at study entry); and there was a 70% reduction among those who had had positive test results at study entry.