Giving healthcare professionals access to a better clinical assessment.
Hospital passports have been around for a while, but you could be forgiven for not knowing much about them. They're not well-known either by healthcare professionals (HCPs) or patients and their families. You may know them by a different name – sometimes they are called All About Me books, Traffic Light books, Grab and Go forms or Health Passports. They are documents, held by the patient or their family, containing information about the patient which might make a huge difference to your ability to care for them.
The information that many focus on is medical and surgical history, medications, allergies, contacts and interventions "Red Hot Information". But when we look at hospital passports they contain so much more information that is just as important and valuable to us when caring for our patients.
Past medical history, medications and allergies are all examples of information that, actually, is usually fairly easy to come by, so what information in a hospital passport can really add value for both the patient and the HCP? Hospital passports are most often used by patients with a learning disability. Learning disability may co-exist with other conditions that can also make accessing health care difficult, such as language disorders, social communication difficulties, sensory processing difficulties or autistic spectrum conditions. Things that can make a real, tangible difference to clinical assessments and disease management include the things that HCPs often don't know they should ask, and patients and families may forget to offer.
Likes and dislikes may seem irrelevant when you're taking a history, but knowing what might help a patient feel more comfortable or less distressed, or what might upset them, can make a huge difference to how much information you get from that history and your examination. Similarly, being aware of how someone communicates, whether they use signs such as Makaton, or symbols, or whether they need you to speak clearly and slowly, can be the difference between a successful outcome and frustration on both sides. Sensory processing difficulties may be described – your patient might struggle with beeps and alarms, for example, or become distressed when having their oxygen saturations measured. Considering these things can allow you to plan your management or alter your environment. Pain can be very difficult to recognise, particularly if your patient is unable to verbalise. A hospital passport which lists the signs that a particular person may display when they are in pain can be invaluable.
While a lot of this focuses on those with an intellectual disability or cognitive impairment, it's vitally important to remember it pertains also to those who may have multiple or serious illness, chronic or acute, who require our help.
Communication: "How can I tell you what I think you need to know, what I like to be called"
Preferences: "What I like, what I don't like when I'm sick/not sick, my favourite toy"
Goals: "When I'm grown up, when I'm not sick I want to…."
Interests: "Who am I outside of hospital? What do I like to watch/do/see/play"
My family and friends and pets
How to help me make feel safe: "what scares me?"
All of these points are more than relevant to every child, not just those with a learning disability. For example – a child with Cystic Fibrosis who has MDT input and may present with haemoptysis to ED (not a known team) – What do we need to know? Often these kids may be able to tell you, but when you are an unfamiliar face and they possibly have experienced 'bad' care, how can you convince them that you won't be 'bad' either?
When they are older sometimes just being able to say "I have read your health passport, I see… is important to you." and working around the individuality of the patient can have a huge positive impact. Even though there may be a pathway in your ED for haemoptysis, it's important to look at the child in front of you and find ways to acknowledge what their individual needs AND wishes are. They may be able to freely communicate but not do so especially if they don't know you, a trust has not been formed and the situation they are in is scary (no matter how many times it has happened before or how much they are used to the interventions).
There are also other forms of hospital passport which are far more clinically-focused; more akin to a treatment summary than the traditional version might be. These can be particularly helpful when a child or young person with a complex medical history presents to hospital or is seen in General Practice. Some places will also call this a Survivorship Passport. This may cover things like what treatments they have received, such as chemotherapy or radiotherapy, and when they had devices such as CVADs inserted. It is also helpful if their current or previous conditions require on-going monitoring or scans. For those in the community who may have patients with on-going health needs this can be especially useful. We don't need to be experts in every area of medicine, but it's important to know where information can be found. The use of a hospital passport can also help in the transition from paediatric to adult health services, empowering young adults to take charge of their health.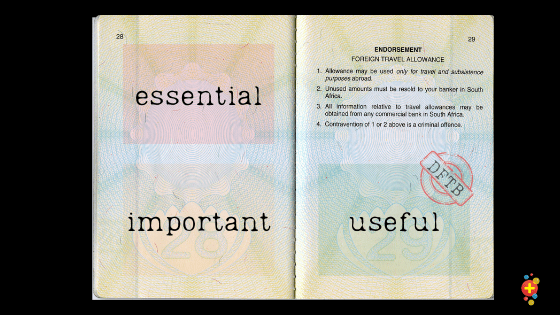 There are many, many examples of hospital passports out there. Almost every UK NHS Trust has their own version (such as this, from University Hospitals Bristol, or this shortened COVID-19 version), as do many charities and support groups (such as Mencap and the National Autistic Society). Many follow a traffic light layout (hence the alternative name) with essential information in a red section, important information in an amber or orange section and useful information in a green section, although context can change how important those pieces of information are. The amount of information contained is less important than the type of information. The layout and design is probably less important than how it is completed and whether it is kept up to date. Digital versions are not yet widely available, but may become an excellent resource if developed in an accessible format. To be useful, a hospital passport needs to be known about, remembered, filled in, kept safe and regularly updated. It needs to be user-friendly for both patients, their families, and HCPs. Healthcare practitioners, in particular, need to recognize the value of those nuggets of information they wouldn't usually think to ask about.
We often talk about family centred care and patient participation, but how often do we stop and think outside the clinical picture? How often do we focus on doing a task without acknowledging prior experiences and needs? This tool is a great resource for building those trusting relationships needed to do those tasks! So why limit it to those with impaired communication?