A couple come to see you following their 18 week ultrasound. They have been told that the ultrasound showed that their baby has spina bifida. The family wish to discuss the situation with a paediatrician.
How does spina bifida present antenatally?
Antenatal ultrasound can pick up the signs:
Chiari malformation and ventriculomegaly – often the alerting sign but but not always present early in pregnancy
Lemon and banana signs
Splayed vertebrae
Soft tissue mass
Bony deformity – scoliosis, kyphosis, talipes
Leg movements
Renal anomalies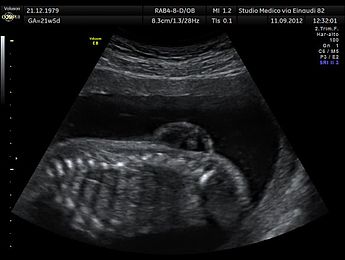 Obstetricians refer to a spina bifida service when a neural tube defect is diagnosed antenatally. This is usually an urgent referral. The purpose is to discuss the nature and effect of the neural tube defect on their baby.
What do the parents want to know vs what we want the parents to know?
It's important to be aware that the family may have a different agenda from you for this meeting.
They will likely want to know:
Will I be able to hold him after he is born?
How long will he be in hospital for?
Will he walk?
Will he have learning difficulties?
Will he go to a normal school
Will he live independently?
Will he be able to have sex?
Things we may want them to know:
Plan for the closure of the back
Possibility of hydrocephalus
Treatment of bladder and bowel – e.g. catheters
Executive functioning
MDT involvement and what a great service we can offer
Folic acid education
Make sure you don't get too carried away with your own agenda!
The general principles to go through in the meeting should be:
Aetiology
Functional implications: mobility; continence; cognition
Estimation of extent of ability/disability
Delivery issues and neonatal care
Developmental/clinical management
Future pregnancies
What the best approach to this sensitive discussion?
Ultrasound findings confirm diagnosis
Explore the parents' reactions to diagnosis to determine how to give further information
Start with what they know
Build on what they know about the anatomy
What does this mean for function?
How does this translate into daily life?
Can it be fixed?
What is the medical/surgical treatment in the neonatal period?
What further treatment?
How long in hospital?
What about follow up?
The parents will have lots of other thoughts going through their minds too, like:
Can my baby be delivered normally?
Where should my baby be delivered?
Will my baby live?
Will we be able to cope with a baby with a disability?
Do you know any child with a disability?
Who in the family knows?
How supportive are they?
Other supports, friends etc
Hospital supports, GP, community – baby health, therapists, Northcott Society
Philosophical/cultural and religious beliefs
And they will be having thoughts about the future…
What type of schooling?
What type of independence?
What type of work?
What about relationships?
What about sex?
What about parenting?
What other quality of life issues?
What about genetics?
How much additional caring?
How much medical/hospital care?
How expensive?
How limiting physically?
How about my other kids?
How about future kids?
It's also worth mentioning to parents that there are continuous improvements in care.
Treatment of hydrocephalus
Treatment of neurogenic bladder
Independence in personal care
Improvement in skin care
Understanding learning issues
Decision making about continuing the pregnancy
This is the parents' decision. It's about what is best for their baby – there is no right or wrong. Offer support now and in the future whatever the decision.
Give written handouts if parents want them. And offer to meet again if they are continuing with pregnancy. Provide telephone contact.
Some useful sources of info include:
Spina bifida association
Sydney Children's Hospital Network
The right decision needs to be what is right for the individual couple, at this point in time, in their circumstances, with the limited information/forecasting we can give for the future.
You can check out the rest of the series here:-