Matthew (18 months) is brought into ED by his mum. He was found playing in his grandma's handbag with what looked to be a pill in his mouth. Grandma has loads of meds in that handbag and it's impossible for them to work out what is missing. What do you do?
What is different between adult toxicology and paediatric toxicology?
The anatomy is different. There is variation in weight, depending on the child to the toxic doses vary in a way that they don't with adults. The body surface area is larger in young children, and the skin is thinner, so any skin absorption is higher. Children have smaller airways so constriction due to spasm is more of an issue, and also obstruction has a bigger impact on airflow (Poiseuilles law). Finally the volume distribution is different – children have a higher total body water.
The physiology is different. Children have a greater minute volume, which is important when it comes to inhaled substances such as carbon monoxide. Tachycardia increases the cardiac output rather than stroke volume so children can decompensate quickly. They can have immature kidney and liver function which affects elimination, and infants have lower liver glycogen stores so they become hypoglycaemic more easily. There is also increased blood brain barrier permeability, so there are greater toxic CNS effects, And finally remember that some drugs can cross the placenta and therefore there may be neonatal withdrawal syndrome.
Take a clear history
Get as much information as you can. See the packets yourself. Often there is uncertainty about the dose taken, so make sure you work out what the maximum dose could be. Often there is more than one child around so it's not clear who took what –  assume the worst case scenario i.e. that one child took as much as was possible.
Get the specifics about the time, symptoms. If you are having trouble identifying which substance/berry/mushroom/flowers they took then use online resources, particularly the National Poisons Information Service.
Perform a good examination
Check the vital signs. This should include temperature – you can get hyperpyrexia in some substances e.g. ecstasy, cocaine or salicylates and you can get hypothermia with ethanol or barbiturates. Assess and note the GCS. Do a neurological exam with the rest of your systems exam. Look specifically at the eyes. skin, urine stools – think of specific toxidromes (e.g. opiates, salicylism, serotinergic, anticholinergic, antihistamines, deadly nightshade, cholinergic). Consider other potential causes of any symptoms described.
Do some basic investigations (where appropriate)
Consider a BM.
ECG (always do this if arrhythmia is known).
Sodium channel blockade – wide QRS
Potassium channel blocker, anti-psychotic overdose – long QT,
Calcium channel and beta blockers – heart block
Capillary blood gas.
TCA, salicylates (late sign), alcohol, metformin – high anion gap metabolic acidosis
Salicylates  – respiratory alkalosis
Sedatives – respiratory acidosis
Do paracetamol levels at 4 hours with paracetamol ingestion.
Imaging for foreign body
Radiopaque items – COINS (chloral, calcium, opiate, iron, neuroleptic, sustained release or coated)
Remember button batteries!
You can do drug levels for some ingestions – paracetamol, iron, alcohols, lithium, salicylate, theophylline, or anti-epileptics.
Bloods – LFT (delayed paracetamol), U&Es, INR (warfarin or delayed paracetamol)
Hourly obs in the department.
Know the one pill kills
Children pick up and eat plenty of random items, and Joe Rotella looked at non-toxic exposures here. But there are a few medications that we really do need to worry about. Those that can be fatal even after just ingesting a small amount.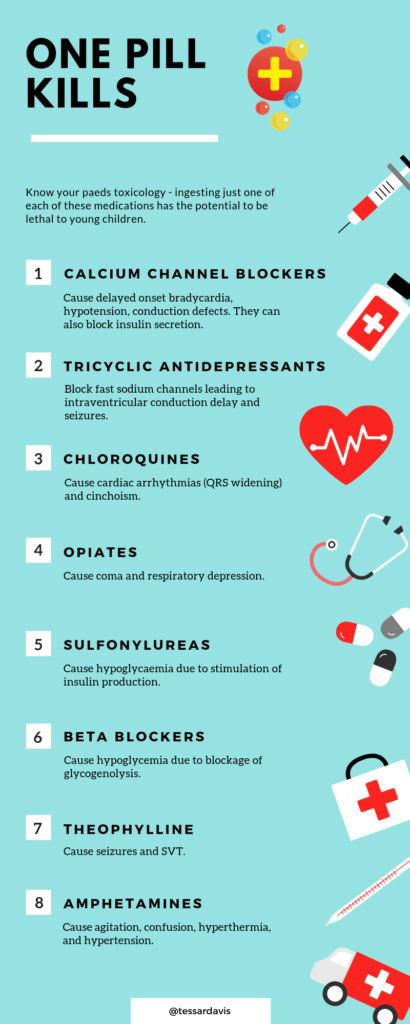 Know the lethal non-drugs
There are other substances that are also potential lethal but are not classed as drugs.
Organophosphate and carbamate insecticides – a single sip can cause cholinergic symptoms, seizures, and coma.
Paraquat/diquat – a sip can cause burns, multiorgan failure, or pulmonary fibrosis.
Hydrocarbons (solvents, eucalyptus oil, kerosene) – a sip can lead to coma, seizures, or aspiration pneumonia.
Camphor – 5ml of 100% can cause seizures, coma, hypotension.

The potentially fatal dose is 50mg/kg
An overdose of camphor will result first in nausea and vomiting and can quickly progress to delirium, hallucinations, seizures, and cerebral oedema.
Camphor is used for its anti-itch, moth-repellent, cough suppressant, and muscle-soothing properties in products and found in loads of products such as Tiger Balm,  Vicks, or VapoRub.
Treat any seizures with benzodiazepines and institute supportive measures.

Corrosives (sodium hydroxide, strong acids) can cause GI injury/perforation.
Naphthalene – one mothball can lead to methaemoglobinaemia and  haemolysis.
Strychnine causes muscle spasm and respiratory failure.
General management
This will include observation and supportive care
Seizures should be managed using benzodiazepines (avoid phenytoin as it has sodium channel blocking properties and this can make things worse)
Look for and treat and secondary complications such as rhabdomyolysis, aspiration pneumonitis, or delirium.
Embrace the RRSIDEAD management principles – resuscitation, risk assessment, supportive care, investigations, decontamination, enhanced elimination, antidotes, and disposition
Elimination of poisons
Any decision to decontaminate should be based on the benefits outweighing the risks, and it is not commonly done if the child is well. But if there is early toxicity then consider it.
Enhanced elimination
This is rarely needed.
Multidose activated charcoal can promote gut dialysis. It can be used with large ingestions of carbamazepine, phenobaritone, quinine, or theophylline. The dose is 1g/kg activated charcoal four hourly.
Alkalinisation of the urine in salicylate poisoning, or haemodialysis promotes ionisation of highly acidic drugs so stop its reabsorption across tubules and increased renal excretion. This can be considered with salicylates (although if severe you will need to do urgent haemodialysis rather than alkalinisation), or phenobarbitone. The dose is 1-2 mmol/kg NaHCO3 stat and then you can infuse further doses over the next 1-2 hours. You are aiming for a urinary pH>7.5.
Haemodialysis is good for water soluble toxins,  which are low molecular weight, not protein bound, and have a small volume of distribution. This would need ICU input.
Specific toxins – iron
Iron supplements are available in different formulations – the important thing to consider is the amount of elemental iron ingested, not the amount of iron salt.
Ingestion of >40 mg/kg of elemental iron is significant (or if an unknown quantity has been ingested or the child is symptomatic)
Symptoms in the initial period can include nausea, vomiting, diarrhoea, abdominal pain, hypotension, haematemesis, and fever.  In severe iron poisoning, there can be a latent period (6-24 hours) where the initial symptoms seems to subside, but later systemic toxicity occurs with organ failure.
Later symptoms usually appear at 6-24 hours and last 12-24 hours. These include cardiovascular symptoms e.g. tachycardia, vasoconstriction, hypotension, and shock; or metabolic symptoms e.g. metabolic acidosis.
Multiple organ failure can occur >48 hours after ingestion.
Specific toxins – essential oils
Essential oils are common in most households e.g. lavender, tea tree, nutmeg, sage, or peppermint. Toxicity can occur from the essential oil itself or from the hydrocarbons or emulsifiers that have been added. Essential oil concentrations range from 1-20% and volumes of 2-3 mL have been associated with toxicity in children. The most common symptoms are mucous membrane irritation and gastrointestinal symptoms with possible CNS depression.
Asymptomatic children with likely small ingestions do not usually require investigation. If there are signs of aspiration pneumonitis then a chest x-ray and blood gas would be helpful. Do U+Es and LFTs in patient with significant symptoms or a large ingestion.
What should you do when you don't know what they've taken?
As I mentioned above, it is a very frequent occurrence that the family is unsure about exactly what has been taken and how much. Be sensible and get a realistic assessment of the worst case scenario regarding the volume/nature of the ingestion.
If in doubt, observe for 12 hours minimum. Monitor the obs and neurology during that time, and if there are any unusual obs then do cardiac monitoring. Get IV access only there are signs of toxicity. Do a BSL and ECG initially as a baseline.
Use common sense, and don't discharge the child in the middle of the night if there is uncertainty.
Safeguarding
Safeguarding is a crucial part of paeds tox – and it is easily overlooked.
Consider the developmental stage and height of the child – were the medications/substances kept appropriately out of reach or were they left lying in accessible place.
Consider if there was adequate supervision? Was the child left unattended and that's why they were able to access the medications/cupboard/handbag without anyone noticing?
Consider FII if the story doesn't seem to quite fit (although this is a difficult diagnosis to make).
Place priority on safe storage of medications and involve the safeguarding teams where appropriate. In August 2012 the Medicines and Healthcare Products Regulatory Agency (MHRA) introduced the Human Medicines Regulation that stated only those medications containing aspirin, paracetamol and greater than 24mg of elemental iron must be legally placed on the market in packaging that has been shown to be child resistant. Child resistant containers do have a role to play in the prevention of accidental poisoning but the priority is for families to ensure safe storage.
Grandma sent through pictures of all the medications in her bag. There were no 'one pill kills' and it was mainly vitamin supplements. On reflection grandma didn't think anything was missing. Matthew remained well in the department and was asymptomatic so was discharged.
References
https://lifeinthefastlane.com/toxicology-conundrum-029/
https://www.starship.org.nz/for-health-professionals/starship-clinical-guidelines/p/poisoning-management-of-childhood/
https://kidshealthwa.com/guidelines/poisoning-overview/
https://www.rch.org.au/clinicalguide/guideline_index/High_risk_-_low_dose_paediatric_ingestions/
https://reference.medscape.com/features/slideshow/deadly-ingestions
https://www.rch.org.au/clinicalguide/guideline_index/Iron_poisoning/
https://www.rch.org.au/clinicalguide/guideline_index/Essential_Oil_Poisoning/