Atopic eczema (also known as childhood eczema or atopic dermatitis) is a chronic paediatric inflammatory skin disease which usually develops in early childhood.
What does the rash look like?
Clinical features can vary with age and ethnicity.
Early infancy: erythematous papules and vesicles on the cheeks and scalp; scratching causes crusted erosions. Non-flexural areas are often affected.
After infancy: often limited to flexures; may also affect the nape of the neck and extensor surfaces of the limbs. Lesions can be extensive in moderate to severe disease.
Infections with Staphylococcus aureus typically cause honey yellow crusts.
In Asian, African, and Afro-Carribean children skin can appear darkened rather than erythematous and extensive lichenification can occur. Follicular and discoid patterns of atopic eczema are also more common in children with darker skin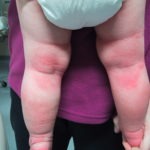 How is it diagnosed?
Atopic eczema can be diagnosed when a child has an itchy skin condition plus three or more of the following:
Visible flexural dermatitis ( in children <18 months there may be dermatitis on the cheeks and extensor surfaces)
Previous history of dermatitis as above
History of dry skin in past 12 months
History of atopy or family history in first degree relative in children under four years
Onset of signs and symptoms under the age of two years
What should be elicited in the history?
Time of onset, pattern and severity
Response to previous and current treatments
Possible trigger factors (see below)
The impact of the condition on children and their parents or carers
Dietary history
Growth and development
Personal and family history of atopic disease
A number of triggers are known to be affect severity of disease and the development of flares. General and specific triggers are listed below:
| General Trigger | Specific Triggers |
| --- | --- |
| Stress | |
| | Regular Activities eg swimming in chlorinated pools |
| | Heat |
| | Sweating |
| | Wool clothing |
| Irritants | Soap |
| | Viral |
| Skin Infection | Bacterial |
| Allergy | Contact allergens, inhaled allergens, seasonal variation, food allergens |
How is mild to moderate eczema managed?
Daily emollients

used to counteract dry skin is the mainstay of treatment. NICE guidelines recommend that leave-on emollients should be prescribed in large quantities (250-500g weekly). Aqueous cream should not be used as a leave-on emollient because it can cause an irritant reaction.

Soaps

should likewise be replaced with emollient-based alternatives. Bath oils are easy to use and should be encouraged. Soap substitutes or bath oils containing the anti-microbial agent Triclosan (eg Dermol 5oo, QV Flare-up) provide useful anti-staphylococcal cover.
Corticosteroids

of mild to moderate potency are used for management of disease flares using a short course (7-14 days). Maintenance treatment can be considered for regular problem areas of atopic eczema subject to regular flares for 2 consecutive days per week. Alleviation of itch is a key sign of response to treatment. Topical corticosteroids should only be prescribed once or twice daily, and long-term use of potent corticosteroids should only be initiated under specialist advice.

Bandages and Dressings

Dry wrap dressings can be used as a protective dressing on top of emollients +/- topical corticosteroids for the treatment of chronic lichenified areas of eczema or for short-term (7-14 days) treatment of flares.
Wet wraps dressings can be useful in the treatment for moderate to severe atopic eczema which has not been controlled with appropriate emollients and corticosteroids.
Bandages and dressings should not be used to treat infected eczema.

Antihistamines

should not be routinely prescribed. In an acute flare of eczema with severe sleep disturbance, a trial of sedating anti-histamines can be considered in a child over 6 months.
What infections can be associated with eczema?
Bacterial infections can cause flares, with staphyloccocus aureus being the most common pathogen. Signs can include failure to respond to treatment, rapidly worsening eczema, weeping, crusts and pustules. Localised clinical infection can be treated with topical antibiotics (including combined corticosteroid preparations), and that widespread infections be treated with systemic antibiotics. Skin swabs should be taken for cases requiring admission or where atypical organisms or resistant staphylococcus aureus is suspected.
Reducing S. aureus skin colonisation in the patient (and family members) can potentially help reduce the severity of moderate to severe eczema flares. Methods include emollients or soap-substitutes containing antiseptic agents (eg triclosan or chlorhexidine), nasal bactroban and bleach baths.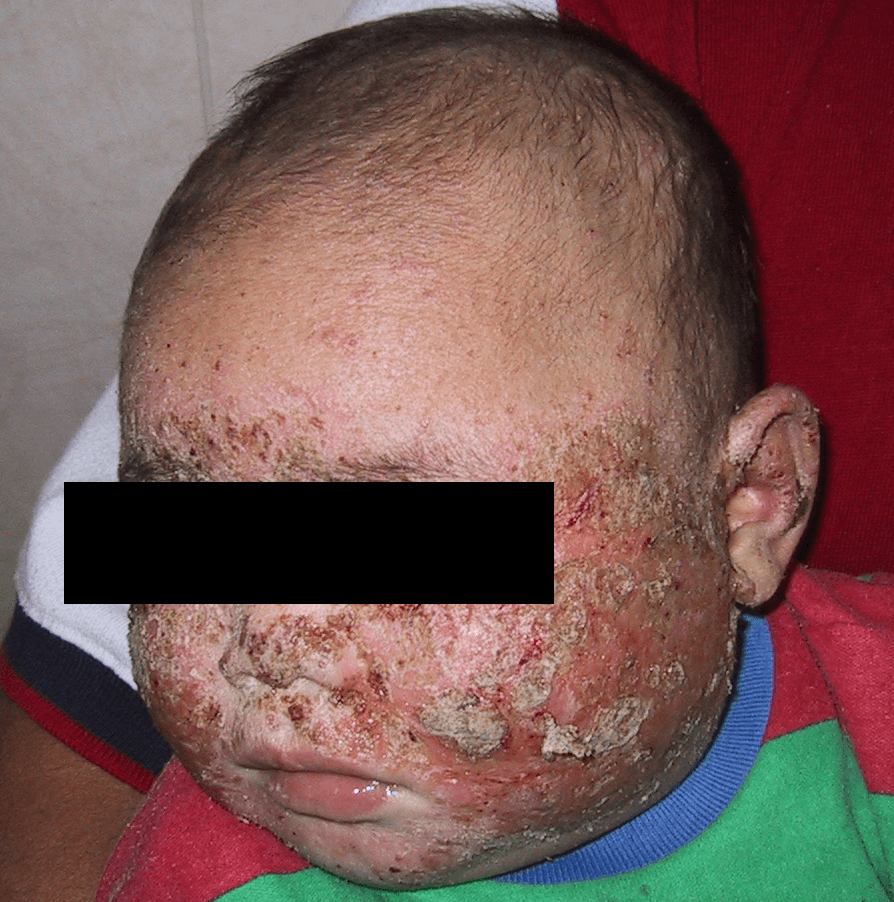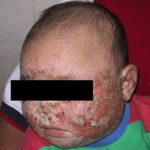 Eczema herpeticum should be considered as a possible differential in any infection which fails to respond to the measures above. Suspected cases should be treated immediately with intravenous aciclovir and referred for a same-day dermatology opinion. Take swabs for herpes simplex virus. Clinical features include:
areas of rapidly worsening, painful eczema
possible fever, lethargy or distress
clustered blisters consistent with early-stage cold sores
punched-out erosions (usually 1–3 mm) uniform in appearance which may coalesce
What is severe eczema and how is it managed?
From a clinical perspective this refers to eczema resistant to first line topical treatments and impacting on quality of life.
Adherence to topical treatment should be carefully assessed – the quantity used and application technique should be directly observed. Potential triggers should be revisited including infections and allergens. For bottle-fed infants under 6 months with uncontrolled moderate or severe atopic eczema, NICE guidelines suggest offering a 6–8 week trial of an extensively hydrolysed protein formula or amino acid formula in place of cow's milk formula.
Treatment options for severe eczema include topical calcineurin inhibitors, bandages and dressings, phototherapy and systemic immunosuppressive treatments.
References
NICE Quick Reference – Atopic Eczema
E-Learning for Healthcare – Atopic Eczema
McAleer MA, Flohr C, Irvine AD. Management of difficult and severe eczema in childhood. Bmj. 2012 Jul 23;345:e4770.
If you enjoyed this post, why not check out our online courses at DFTB Digital