This week sees the publication of a new paper in Pediatrics by the team at the Children's Hospital of Pittsburgh and the University of Pittsburgh.
Ramgopal SR, Noorbakhsh KA, Callaway CQ, Wilson PM, Pitetti RD. Changes in the management of children with brief unresolved unexplained events (BRUEs). Pediatrics.
Why was this study needed?
In 2016, the American Academy of Pediatrics published a guideline which renamed and redefined ALTEs (acute life-threatening event). The new term was BRUE (brief resolved unexplained event).
ALTE was initially coined in 1986 and the definition was:
an episode that is frightening to the observer and that is characterised by some combination of apnoea (central or occasionally obstructive), colour change…marked change in muscle tone (usually marked limpness), choking, or gagging. In some cases, the observer fears that the infant has died.
This was a broad definition and caused some difficulties for those of us assessing babies in hospitals. Although an ALTE could indicate a serious underlying problem – NAI, infection, seizure – commonly the infant was completely well. ALTEs by definition were subjective and this made the management of them tricky. Often these babies had overnight admissions to hospital for observation.
The new definition for BRUE is:
A BRUE has occurred if the observer reports a sudden, brief, and now resolved, unexplained episode of ≥1 of the following:
cyanosis or pallor
absent, decreased, or irregular breathing
marked change in tone (hyper- or hypotonia)
altered level of responsiveness
As well as the new definition, the guideline also stratifies patients and recommends management for those in the low-risk group.
Read our DFTB summary of the change in guidance here.
It has now been three years since the change from ALTE to BRUE. The aim of this study was to see whether the new guidance has affected rates of admission, investigations, or outcomes.
The objectives of the study were cleared stated and relevant to paediatric emergency medicine.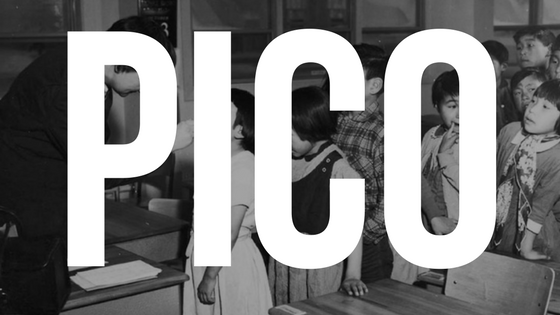 Who were the patients?
Patients were taken from the Pediatric Health Information System, which is a database with all information from presentations and admissions in hospitals across 26 states in the USA.
Patients were included if they were under 1 year old and had a diagnosis coded of either ALTE or BRUE between 2015 and 2017.
Exclusions were if patients had been transferred from another hospital, or had ambulatory surgery.
A control cohort was also used from all ED presentations of children under one year old during the inclusion period with no diagnosis of ALTE and BRUE (same exclusion criteria). The aim of the cohort group was to check whether there were any confounding trends in admissions/investigations during that time period.
This was an appropriate choice of patient group and the use of control cohort was beneficial. Sample size estimates were not stated explicitly but were alluded to.
The limitation here is the reliance on coding. However, additionally the authors were unable to determine if the diagnosis was correct, or if the patient could be classified as a low-risk BRUE as these assessments require a history and examination.
9,501 patients were used for the cohort analysis (5508 patients 0-60 days old, and 3993 who were 60 days to 1 year old). This group was split into a 2015 cohort (i.e. before the new guidelines) and a 2017 cohort (after the introduction of the new guidelines)
A second analysis was an interrupted time series analysis to look at trends in admissions over time. 13,977 patients were included in this group.
1.4 million patients were in the control cohort.
What analysis was carried out on these groups?
The cohort analysis looked at the rate of admissions as the primary outcome. Secondary outcomes included revisits and investigations performed. A comparison was also conducted by using the control cohort.
The interrupted time series analysis looked at whether admission rates changed over time following the introduction of the guideline. Admission rates were analysed in one-week batches throughout the three year time period.
The subjects were all accounted for and appropriate outcomes were considered.
What were the findings?
Admissions: the proportion of admissions in the 61-365 day old group was 86.2% in the 2015 cohort and 68.2% in the 2017 cohort. The admissions were also significantly lower in the 0-60 days group – 89.9% in the 2015 group and 84.1% in the 2017 group.
Investigations: the 2017 group had significantly lower rates of EEG, MRI, CXR, FBC, U+Es, LFT, and urinalysis. Those in the 0-60 day old group (2017) had significantly lower rates of blood gas measurement, blood sugar testing, head CT, metabolic studies, and lumbar puncture.
Revisits: in the 0-60 day old group, revisits within 3 days were significantly lower in the 2017 group (3.7%) than in the 2015 group (5.2%). The rest of the revisit rates were similar.
Analysis of the control cohort here suggested that the decreased rates of these outcomes were independent of other trends over time.
Interrupted time series analysis: in the 0-60 day old group the introduction of the guideline did not affect trends in admissions rates. However, in the 61-365 day old group, the admission rates decreased each week after the guideline was published.
The authors were clear on what was measured and how it was measured. Follow up was for a 30 day period so should have picked up most complications. The measurements were reliable, valid, and the basic data was adequately described.
What did the authors conclude?
Between 2015 and 2017 there has been a significant reduction in the rates of admission and investigations for patients with ALTE/BRUE. This rate decreased steadily following the guideline publication.
The authors note that this reduction is seen in the 0-60 day old group, even though that age group would be stratified as higher risk in the new guidelines. The fact that BRUE is a diagnosis of exclusion, whereas ALTE was all-encompassing may mean that this diagnosis is being applied to a smaller, safer group over time, which might explain the findings. There were less patients diagnosed with ALTE/BRUE in 2017 compared to 2015.
The results are discussed in relation to existing knowledge and the discussion seems balanced and not biased. The conclusions are justified by the data.
Will this paper change my practice?
Changing practice is challenging, changing a definition is a little easier.
This study is a great example of how to review the impact of guideline change and determine whether the outcomes have improved for patients without unintended consequences. At face value the BRUE approach has had beneficial clinical impact. We see an overall decline in admission and investigations with no obvious harm (returns don't increase).
There are a few caveats that are important to consider though. This study was from a chain of hospitals likely working with similar cultures and convergent working practices. A random selection of children's hospitals may have interpreted the AAP guideline with a greater degree of variance (and therefore application). With this in mind the relevance of quite a profound change in coding should be highlighted. In a similar timescale 25% of patients with a prior diagnosis of ALTE are no longer coded as such and it appears that these patients are not replaced with a BRUE code (as there was a 25% reduction overall in either code). This means that either the guidance has been successful in making staff think hard about about the underlying reason for the infant's presentation or that perhaps initial coding was not as precise as it could have been ("I'm not sure what happening here so I'll just call it an ALTE"). Of note the return rate isn't supplied for those not coded as BRUE or ALTE so we don't know if the cohort of patients now coded as something else have actually come to increased harm. It is also interesting to note the significant fall in admissions for those less than 60 days old. This wasn't the intention of the initial guidance and while this group's re-admission rates didn't increase this study wasn't powered (or designed) to look at whether the re-admission changes would be significant or not. The fact that it appears safer is a statistical construct, not a clinical one. This means a type II error is possible (there is actually a problem but we aren't seeing it).
Ultimately, while these risks are real, and do need investigation in future study, it is likely that altering to using BRUE will effectively rationalize your investigation and management pathways without causing additional harm. The challenge for those outside the United States is whether national organizations are happy to formally endorse the BRUE concept as staff may feel uncomfortable applying new rules without official sanction. Locally certainly, we use the BRUE criteria in our risk assessment and this study only further endorses that approach.
Post-publication commentary from one of the authors
This is a really wonderful summary and analysis of the study. The findings do suggest that patients in the low risk cohort identified by the AAP BRUE guidelines are being discharged safely without an increase in return visits. It is important to note that this narrower definition of BRUE has not excluded all high acuity conditions, as patients with high acuity co-diagnoses were identified in both age groups after the practice guideline publication.
 
Overall, I think our findings support continued clinical application of the BRUE definition and guidelines. While not within the scope of our study, the results did make us wonder about the impact of guidelines published by a national medical organization. How much of the change we saw in a three-year period were due to influence by the AAP and how much was because the medical community was ready for a change in ALTE management? Finally, we hope that our findings are able to support further research into management of both low-risk and high-risk BRUE and into understanding what has changed in the management of infants who are now excluded from the BRUE diagnosis.
 
Katie Noorbakhsh (author)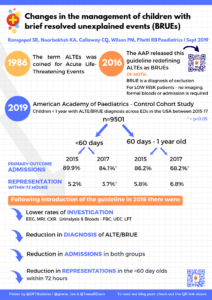 Here's a printable A4 summary of the paper & our thoughts:
Changes in the management of children with Brief resolved unexplained events (BRUEs)