Victor, 11, presents to the 'minors' area of your emergency department with a painful wart on his foot. It has been increasing in size over the last three months and is now so sore he can't walk on it without a limp. His GP suggested trying duct tape, but Victor's parents were skeptical about this. They've sought the advice of a local pharmacist, who sold them some salicylic acid cream.

He takes off his sock to reveal this: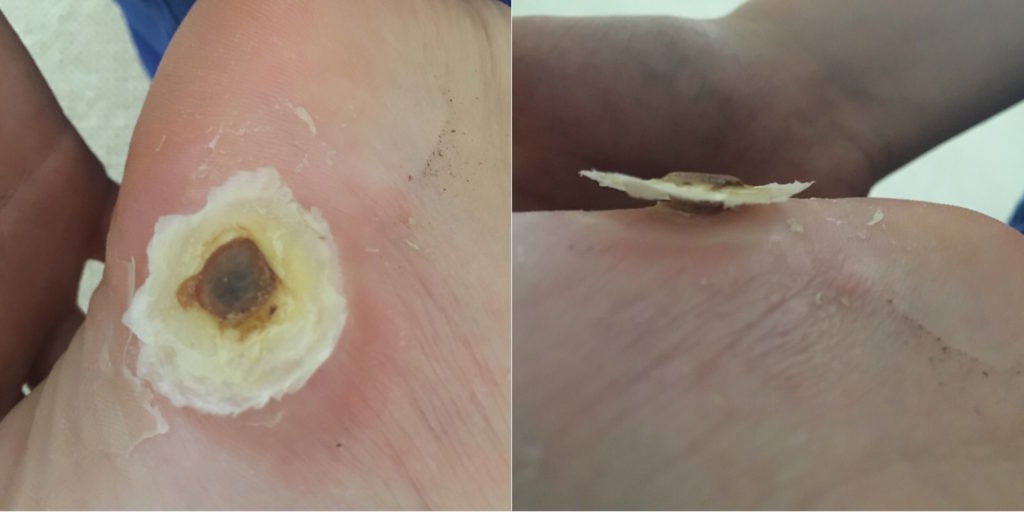 Victor agrees to sit still long enough – with the help of some nitrous oxide – for his wart to be removed and the base cauterised with silver nitrate (it demonstrated possible benefit in the 2012 Cochrane review). The wound is dressed and advice for some ongoing salicylic acid therapy in addition to regular dressing changes provided.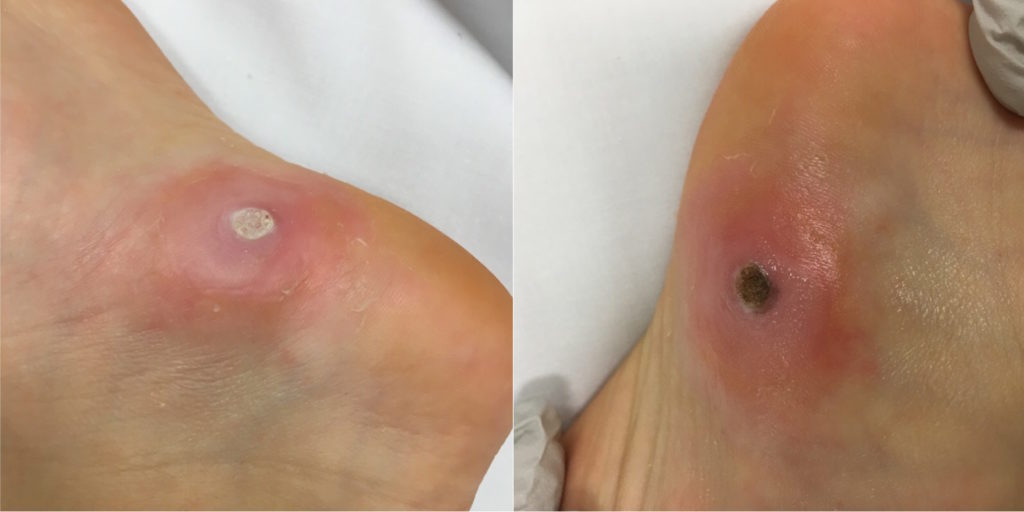 Just as he gets up to leave, Victor asks about the duct tape – his friend tried it and it seemed to work.
In summary, the evidence around management of warts is evolving and heterogeneous. Most will resolve unassisted, but the currently recommended first line therapies with either salicylic acid paste, cryotherapy or duct tape have all had some success in at least one trial, if the parents (and child) are keen to try an active intervention and can appropriately weigh up the potential harm or inconvenience vs the low likelihood of benefit.
(Many thanks to "Victor" and his family for consenting to these photographs being in the public domain.)
References:
Bruggink SC1, Eekhof JA, Egberts PF, et al. Natural course of cutaneous warts among primary schoolchildren: a prospective cohort study. Ann Fam Med. 2013 Sep-Oct;11(5):437-41. doi: 10.1370/afm.1508.
Kwok CS, Gibbs S, Bennett C, et al. Topical treatments for cutaneous warts. Cochrane Database Syst Rev. 2012 Sep 12;(9):CD001781. doi: 10.1002/14651858.CD001781.pub3.
Gibbs S, Harvey I. Topical treatments for cutaneous warts. Cochrane Database Syst Rev2006;3:CD001781
Cockayne S1 Curran M, Denby G et al. EVerT: cryotherapy versus salicylic acid for the treatment of verrucae–a randomised controlled trial. Health Technol Assess. 2011 Sep;15(32):1-170. doi: 10.3310/hta15320.
Bruggink SC, Gussekloo J, Zaaijer K, et al. Warts: cryotherapy, salicylic acid or expectantly awaiting? A randomised controlled trial. J Invest Dermatol. 2008;128:8.
Craw, L., Wingert A. & Lara-Corrales, I. Are salicylic formulations, liquid nitrogen or duct tape more effective than placebo for the treatment of warts in paediatric patients who present to ambulatory clinics?  Paediatr Child Health Vol 19 No 3 March 2014
Bruggink SC, Gussekloo J, Egberts PF, et al.. Monochloroacetic acid application is an effective alternative to cryotherapy for common and plantar warts in primary care: a randomized controlled trial. J Invest Dermatol. 2015 May;135(5):1261-7. doi: 10.1038/jid.2015.1. Epub 2015 Feb 5.