Most of us consider sex as a black or white issue. You are either male or female. But the truth is not as simple as that. The development of sexual characteristis lies on a spectrum. The arbitrary terms of male or female are a human definition rather than a natural one. A person may be born appearing to be mostly male on the outside but with female-typical anatomy on the inside. They may be born with genitalia that seem to fall in between norms e.g. a boy with a very small penis or divided scrotum with appearance of labia. Or they may be born with mosaic genetics so that some cells comprise of XX chromosomes and some XY. Intersex may be apparent at birth but it is often not until puberty, or occasionally later into adulthood via infertility clinics, that it becomes manifest.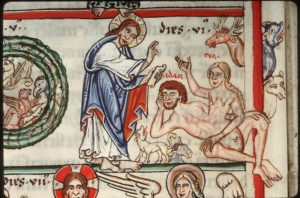 Intersex does away with the myth of the  gender binary as classically depicted by Adam and Eve. Perhaps it is also better to move away from the term "normal" to describe genitalia. One German study looked at a group of 500 men and found that urologists would only label 55% as 'normal' according to medical standards. 225 of the 500 had a degree of hypospadias. This makes the idea that the tip of the glans is the normal spot for the urethra to open questionable.
The Australian Human Rights Commission in Surgery on Intersex Infants and Human Rights (2009) uses the term 'intersex' as an umbrella term to describe people who are not born, or do not develop, as exclusively male or female
The formation of usual reproductive anatomy
Intersex is distinct from sex, sexual orientation or gender identity. To simplify things it is worthwhile considering the development of normal reproductive anatomy. Seven weeks after conception the internal and external embryonic genitalia are identical. This excellent video from Armando Hasudungan may make things more clear.
Biological sex is determined by many things then – the  number and type of sex chromosomes, the presence of ovaries or testes, sex hormones, internal reproductive anatomy and what we see on the outside. A change in any of these may characterize someone as intersex.
Just to clarify some basic terms:-
| | |
| --- | --- |
| Gender | What someone feels like and identifies with |
| Sex | What some looks like physically – male, female or intersex |
| Sexuality | What someone is attracted to |
Support and Advocacy
Organisation Intersex International Australia
Intersex UK