Pippi, aged 3, has been a little bit unwell of later.  Most of her family have had viral gastroenteritis and she has now got it too.  She's been vomiting for the last 24 hours and is struggling to keep anything down.  Her parents are concerned that she is becoming dehydrated so they bring her into the ED.  She gets a sublingual ondansetron wafer and tries some oral rehydration solution.  "Yeuch!" she says as she spits it out, "That tastes disgusting." You wonder if there is anything else you can try.
Today we are going to take a look at the following paper:-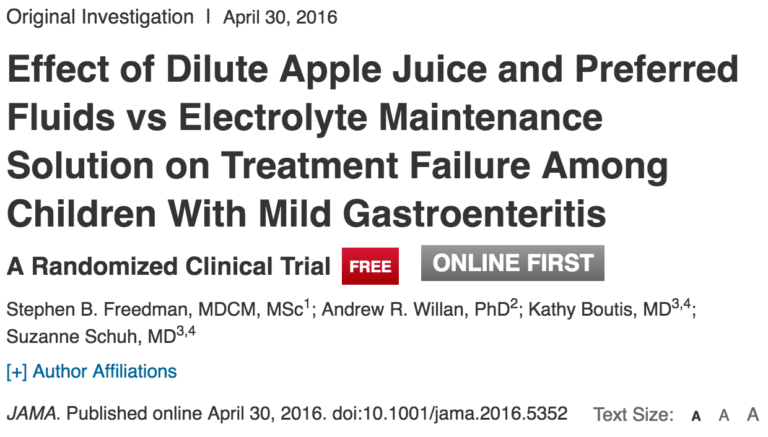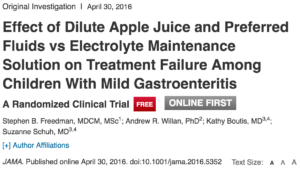 It's easy to read the abstract of a trial and just agree with the conclusion but we should be more sceptical of what we read.  Using a validated tool such as that from the Best Evidence in Emergency Medicine group can help with critical appraisal.
Let's go through the quality appraisal checklist for a randomized, control trial.
So we can see that the trial appears to hold up to scrutiny with regard to its method and analysis.  What we really want to know is whether diluted apple juice is as good as the usual rehydration solution. The bottom line, according the study authors, is this:-
Among children with mild gastroenteritis and minimal dehydration, initial oral hydration with dilute apple juice followed by their preferred fluids, compared with electrolyte maintenance solution, resulted in fewer treatment failures.
In order to reduce the need for intravenous rehydration the team focussed both on stopping the vomiting (with sublingual ondansetron) and replacing potential losses. Interestingly 68% of the children in the study had no clinical evidence of dehydration equating to a Clinical Dehydration Score of zero but still received oral rehydration solution or diluted apple juice.  Here lies the catch in this study.  Many of the patients we see in Australian paeds EDs are minimally or mildly dehydrated and thus the results of this study can probably be extrapolated to them.  ORS was designed for children with Cholera who had significant dehydration, ongoing fluid loss and pathology that affected their ability to absorb enteral fluid (remember those glucose-sodium co-transporters from med school?).  ORS is safe and effective in pretty much any degree of dehydration whereas this study only demonstrates diluted juice is useful in the mildest of cases.  So by all means start handing out the dilute juice to many of the patients you see but don't chuck out the gastrolyte just yet!
References
Freedman SB, Willan AR, Boutis K, Schuh S. Effect of Dilute Apple Juice and Preferred Fluids vs Electrolyte Maintenance Solution on Treatment Failure Among Children With Mild Gastroenteritis: A Randomized Clinical Trial. JAMA. Published online April 30, 2016. doi:10.1001/jama.2016.5352 Full text here
Jauregui J, Nelson D, Choo E, Stearns B, Levine AC, Liebmann O, et al. (2014) External Validation and Comparison of Three Pediatric Clinical Dehydration Scales. PLoS ONE 9(5): e95739. doi:10.1371/journal.pone.0095739 Full text here