Children have become global gastronomic explorers and are constantly trying unusual foods. It is not these that are generally of concern to the healthcare provider but regular, everyday foods that are found in nearly every larder or store cupboard.
Whilst we would like to think that anaphylaxis is a rare event, children still present to the emergency department with signs and symptoms suggestive of anaphylaxis every year. Whether we notice them, or act on them appropriately is another matter. In this talk Domenic takes us through some of the data around food allergy and anaphylaxis.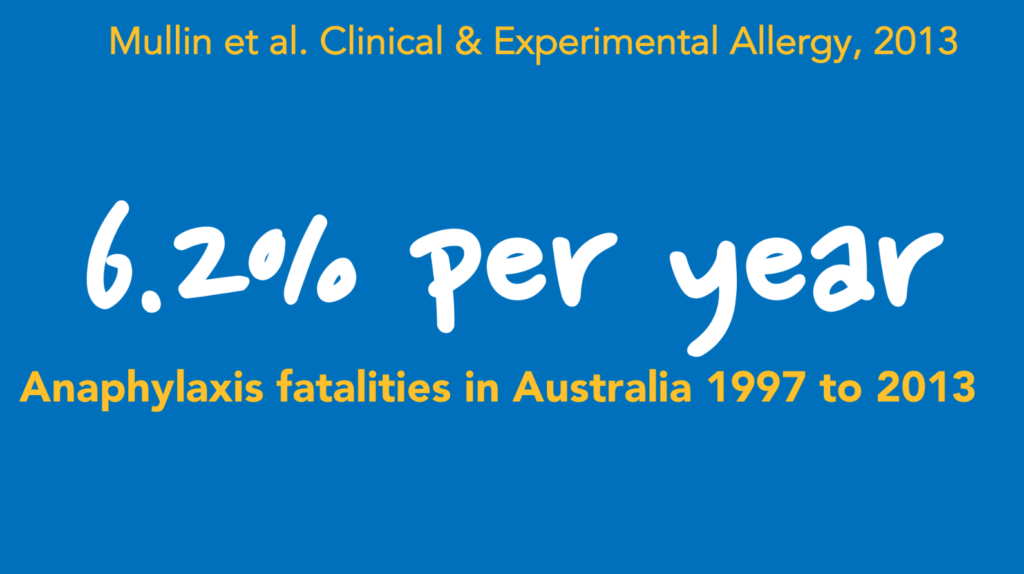 This talk was recorded live at DFTB18 in Melbourne, Australia. With the theme of 'Science and Story' we pushed our speakers to step out of their comfort zones and consider why we do what we do. Caring for children is not just about acquiring the scientific knowhow but also about taking a look beyond a diagnosis or clinical conundrum at the patient and their families.
If you want our podcasts delivered straight to your listening device then subscribe to our iTunes feed or check out the RSS feed. If you are more a fan of the visual medium then subscribe to our YouTube channel. Please embrace the spirit of FOAMed and spread the word.

Selected References
Mullins RJ, Wainstein BK, Barnes EH, Liew WK, Campbell DE. Increases in anaphylaxis fatalities in Australia from 1997 to 2013. Clinical & Experimental Allergy. 2016 Aug;46(8):1099-110.
Thomson H, Seith R, Craig S. Inaccurate diagnosis of paediatric anaphylaxis in three Australian emergency departments. Journal of paediatrics and child health. 2017 Jul;53(7):698-704.
Hsiao KC, Ponsonby AL, Axelrad C, Pitkin S, Tang ML, Burks W, Donath S, Orsini F, Tey D, Robinson M, Su EL. Long-term clinical and immunological effects of probiotic and peanut oral immunotherapy after treatment cessation: 4-year follow-up of a randomised, double-blind, placebo-controlled trial. The Lancet Child & Adolescent Health. 2017 Oct 1;1(2):97-105.