You are reviewing a baby in clinic when mum mentions incidentally that she's noticed his umbilicus looks a bit 'funny' and bleeds occasionally. You pull up his top and have a look…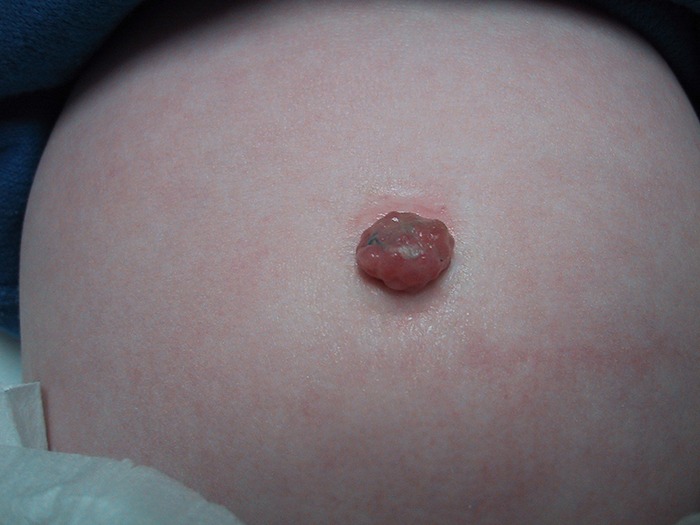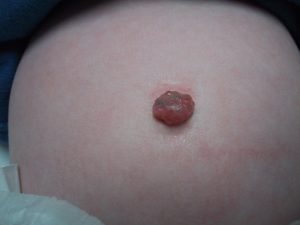 This is an umbilical granuloma and it's pretty common. It's caused by a mild infection and usually appears shortly after cord separation (although there can be a delay of a few weeks).
It looks like pink or red soft tissue at the site of the umbilicus.
Sometimes they can bleed when they rub against the nappy or clothing, but otherwise can be asymptomatic.
This one is quite large so it's likely to require silver nitrate.
Smaller ones can be left and will general resolve spontaneously. Some people recommend applying salt to the smaller granulomas – place it on a swab and hold it to the granuloma for 5-10 mins.
Look out for any urine or stool discharging from the umbilicus (suggesting uracho or vitello-intestinal duct abnormalities). They are not very common.
Occasionally granulomas do not go away with silver nitrate and may need surgical referral.
References
Disorders of the umbilicus: treatment and management. eMedicine.

Umbilical granuloma – pre-referral, RCH, Melbourne.

Image from Mike Cadogan.
If you enjoyed this post, why not check out our online courses at DFTB Digital