On 22nd August 2017, guanfacine hydrochloride (current sole brand name Intuniv) was accepted as a new chemical entity by the Therapeutic Goods Administration in Australia.1 Whilst new to Australia, guanfacine has been available within the United States of America and Europe since 20102 and 20153 respectively. The development of generic brands within these countries has seen increased uptake of this medication as an alternative to stimulant medications.
So what is it?
Guanfacine is an alpha 2 agonist. Unlike clonidine (which is non-selective and shows high affinity for all 3 subtypes of alpha 2 receptors – A, B and C), guanfacine has preferencial affinity for alpha 2A receptors. Stimulation of these receptors in the prefrontal cortex mimics noradreline/norepinephrine actions in this region, with current ADHD (Attention Deficit Hyperactivity Disorder) causal theories demonstrating noradrenergic dysfunction as underlying the cognitive and behavioural manifestations of ADHD.4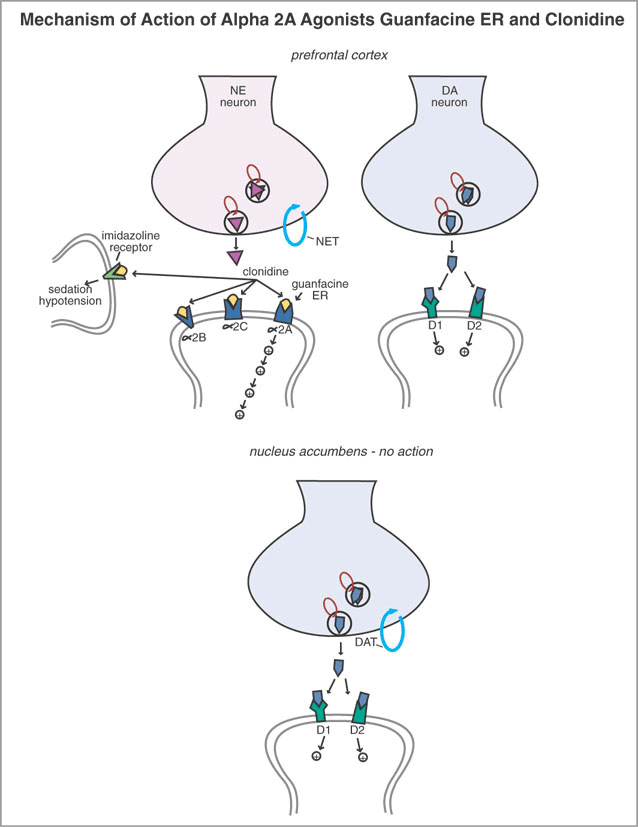 https://www.priory.com/psychiatry/clonidine.htm
Indications and Usage
Under current licensing in Australia, guanfacine is indicated for "the treatment of attention deficit hyperactivity disorder (ADHD) in children and adolescents 6-17 years old, as monotherapy (when stimulants or atomoxetine are not suitable, not tolerated or have been shown to be ineffective) or as adjunctive therapy to psychostimulants (where there has been a sub-optimal response to psychostimulants)."
The use of guanfacine "must be used as part of a comprehensive ADHD management programme, typically including psychological, educational and social measures."1
These stipulations encourage prescribers to manage ADHD within a bio-psycho-social context, understanding that in the vast majority of cases, the condition whilst caused by a neurotransmitter imbalance may be attenuated by psychological and social strategies.
Shire Australia (whom is licensed for its distribution) recommends its use in children and adolescents 6 – 17 years of age.6 There are very limited studies7 surrounding guanfacine use in children younger than 6 years and whilst efficacy has been suggested, caution would be suggested in making ADHD diagnoses particularly in toddler years due to a great variety in "normal" in this period.
Dosage and Administration
Guanfacine will be released in 1mg, 2mg, 3mg and 4mg modified release tablets with administration once per day orally. Tablets should not be crushed or dissolved. Guanfacine should not be taken with high fat meals as this significantly affects absorption.
The recommended initial dose is 1mg (when used as either monotherapy or co-administered with stimulants). Dose adjustments are recommended by no more than 1mg/week with a target dose range (or based on therapeutic effect should it occur prior to this dose) of 0.05 – 0.12mg/kg/day. Doses exceeding 4mg (co-administration) and 7mg (when used as monotherapy) have not been evaluated.8
Recommended target dose range for maintenance therapy when guanfacine is sole agent8
| | |
| --- | --- |
| Weight | Target dose range (0.05 – 0.12 mg/kg/day) |
| 25.0-33.9 kg | 2-3 mg/day |
| 34.0-41.4 kg | 2-4 mg/day |
| 41.5-49.4 kg | 3-5 mg/day |
| 49.5-58.4 kg | 3-6 mg/day |
| 58.5-91.0 kg | 4-7 mg/day |
| ≥91.0 kg | 5-7 mg/day |
Adverse effects
The most common adverse effects9 include:
Somnolence
Sedation
Abdominal pain
Dizziness
Hypotension
Dry mouth
Constipation
In contrast to stimulant medication, weight gain (mean of 0.5kg) is seen in patients using guanfacine.
Less common (although clinically significant) side effects10 include:
Atrioventricular block
Asthenia and chest pain
Increased ALT
Convulsion
Increased urinary frequency
Hypertension
Pallor
Drug interactions
CYP3A4 inhibitors (such as ketoconazole) and CYP3A4 inducers (such as rifampin) may affect guanfacine blood levels and subsequent clinical response.10
Cost
Since being introduced onto the PBS 1st September 2018, the previously prohibitive costs are now more affordable for families (although still quite expensive without a health care card) – ~$40 regular PBS price ~$6 concession PBS price.