Alcohol use is common in Australian women with surveys suggesting that around 90% of 18-45 year olds have had a drink in the last year and that around 39% of these are unaware of the health implications of drinking on the developing fetus. Fetal Alcohol Syndrome is a leading cause of preventable intellectual disability. An Australian diagnostic guide has recently been developed by the Telethon Kids Institute to help clinicians make the diagnosis of Fetal Alcohol Syndrome Disorders. In this post we cover some of the basics of Fetal Alcohol Syndrome and provide some resources for those who want to learn more.
Bottom line

Fetal alcohol syndrome is 100% avoidable and the NHMRC recommends that women who are pregnant, or thinking of getting pregnant, avoid alcohol altogether.
The harms of alcohol, that most prevalent of recreational drugs, have been known since records began though the true risks to pregnant mothers was probably downplayed in the earlier parts of the 20th century following the repeal of the Volstead act and the end of Prohibition.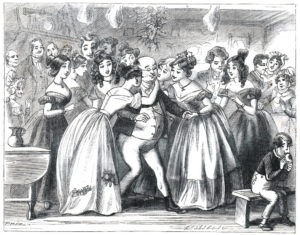 "Betsy Martin, widow, one child, and one eye. Goes out charring and washing, by the day; never had more than one eye, but knows her mother drank bottled stout, and shouldn't wonder if that caused it (immense cheering). Thinks it not impossible that if she had always abstained from spirits she might have had two eyes by this time.

                                        The Pickwick Papers – Charles Dickens
Whilst social commentators, such as Dickens, may have recognised that maternal alcohol intake has an impact on their children, it wasn't until 1968 when a Frenchman first described the adverse effects of maternal alcohol intake on offspring. The term Fetal Alcohol Syndrome (FAS) was coined by two dysmorphologists, Jones and Smith, five years later. As with a lot of medicine the syndrome was based on small numbers, in this case eight case reports of…
"…craniofacial, limb, and cardiovascular defects associated with prenatal onset growth deficiency and developmental delay" in eight unrelated children of three ethnic groups, all born to mothers who were alcoholics."
By the year 2000, it was apparent that in utero alcohol exposure was linked to a number of neurodevelopmental deficits in the absence of characteristic facial features and so the term Fetal Alcohol Spectrum Disorder (FASD) was coined. FASD encompasses a variety of syndromes from Fetal Alcohol Syndrome (FAS), partial Fetal Alcohol Syndrome (pFAS), Alcohol-Related Neurodevelopmental Disorder (ARND) and Alcohol Related Birth Defects (ARBD).
The rate of FASD has been estimated as 2.76 per 1000 among indigenous Australians and 0.02 per 1000 births in non-indigenous Australians. This most likely under-represents the number of cases. Maternal alcohol intake can vary during the course of pregnancy and unless data is collected prospectively an accurate determination of consumption is challenging. A large number of women will have already imbibed before they even knew they were pregnant.
There is also a lack of physician awareness of the condition. This also leads to underdiagnosis. At present there is no Australian national reporting standard. Published rates of FAS are lower than those from the United States (1 to 1.5 per 1000 children) with certain at risk populations showing a higher prevalence of disease. More recent US data suggests rates as high as 5 per 1000 children might be affected with FASD.
Let's break these last two items down a little further.
There is also the requirement that there is severe impairment in at least 3 of 10 neurodevelopmental fields.
The latest Australian recommendations suggest the following rationalisation of diagnoses, making thins much easier for clinicians: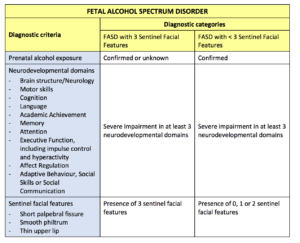 As with many other cases of intellectual disability, children with FASD have an increased risk of developing mental health issues in adulthood. There are also a number of studies that suggest juveniles with FASD are more likely to get into trouble with the law or come into contact with the criminal justice system.
References
Burns L, Elliott E, Black E, Breen C, editors. Fetal alcohol spectrum disorders in Australia: an update. Canberra: Intergovernmental committee on drugs working party on fetal alcohol spectrum disorders. June 2012 Full text here
Warren KR. A Review of the History of Attitudes Toward Drinking in Pregnancy. Alcoholism: Clinical and Experimental Research. 2015 Jul 1;39(7):1110-7
Lemoine, P.; Haroussou, H.; Borleyru, J.P.; and Menuet, J.C. Les enfants de parents alcooliques: Anomalies observees a propos de 127 cas. [Children of alcoholic parents: Anomalies observed in 127 cases.] Ouest Medical 21:476–482, 1968.
Jones K, Smith D, Ulleland C, Streissguth A. Pattern of malformation in offspring of chronic alcoholic mothers. The Lancet. 1973 Jun 9;301(7815):1267-71.
Bower C, Elliott EJ 2016, on behalf of the Steering Group. Report to the Australian Government Department of Health: "Australian Guide to the diagnosis of Fetal Alcohol Spectrum Disorder (FASD)". Full text guidelines here
Williams JF, Smith VC. Fetal alcohol spectrum disorders. Pediatrics. 2015 Nov 1;136(5):e1395-406. Full text here
Elliott EJ. Fetal alcohol spectrum disorders in Australia – the future is prevention. Public Health Res Pract. 2015;25(2):e2521516 Full text here
National Organisation of Fetal Alcohol Spectrum Disorders
National Health and Medical Research Council. Australian guidelines to reduce health risks from drinking alcohol. Canberra: Commonwealth of Australia; 2009 Full text here