We are thrilled to announce the program and open registration for DFTB20. Our 4th conference will give the floor to 78 speakers from 8 countries. You will hear from patients, families, nurses, doctors, allied health professionals, a blue heeler and a robotologist, all sharing expertise relevant to your clinical practice.
Nine workshops on Sunday August 23rd will offer a deeper dive into subjects from compassion to airway management via ultrasound, wellness and peri-procedural communication. These include sessions led by our friends at Simulation Australasia and WrapEM.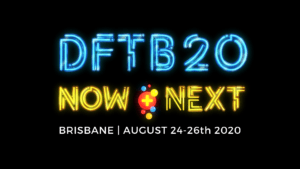 Conference sessions from will take place Monday August 24th to Wednesday August 26th in the stunning Brisbane Convention and Exhibition Center while our party will take us to the gallery of one of Australia's leading indigenous artists. Our storytelling event on Sunday evening promises a wild emotional journey without leaving the comfort of a cosy Brisbane bar.
If you are passionate about paediatric care, want to hear about cutting edge research and practice or just want to spend a few days amongst a group of clinicians who place children at the heart of healthcare then click here to register.  We can't wait to see you in Brisbane.