With recent changes in the adult definitions of sepsis you may be wondering where that leaves those of us that look after sick children. The great researchers from the ANZICS CORE and PSG teams have tried to answer the question.
The 2015 Sepsis-3 definition for adults has been widely discussed in the #FOAMed world. If you want a quick break down then listen to Scott Weingart interview Merv Singer (one of the authors), and read Josh Farkas' take and the views from the St Emlyn's crew. We know that patients can have SIRS criteria without sepsis (just take my obs after I've been to the gym) and so we need an alternative method to help rapidly detect those patients suffering from sepsis and the subset with septic shock.
In adults we can use the SOFA score (Sequential Organ Failure Assessment) which comprises of a number of parameters but what can we do to help identify children in septic shock?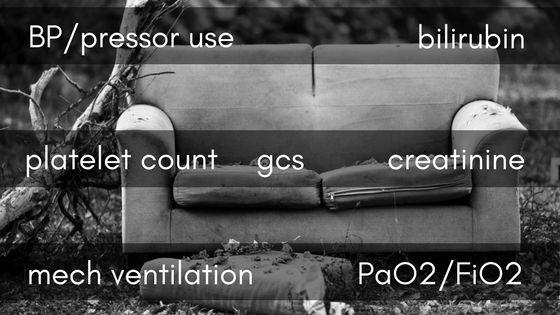 Today we are going to take a look at this paper…
Schlapbach LJ, MacLaren G, Festa M, Alexander J, Erickson S, Beca J, Slater A, Schibler A, Pilcher D, Millar J, Straney L. Prediction of pediatric sepsis mortality within 1 h of intensive care admission. Intensive Care Medicine. 2017 Feb 20:1-2.
Who are researchers?
It was carried out on behalf of the Australian & New Zealand Intensive Care Society (ANZICS) Centre for Outcomes & Resource Evaluation (CORE) and the ANZICS Paediatric Study Group (PSG). The CORE group, according to their website, "…provide audit and analysis of the performance of Australian and New Zealand intensive care." The Paediatric Study Group collects data from the six Australian PICUs and single New Zealand PICU, as well as those adult ICUs that also admit children.
What sort of trial was it?
This was a multicentre binational cohort study. Just to remind you – a cohort study takes a group of people, in this case children, admitted to the PICU/ICU and follows them over time, often looking to see what variables are related to a pre-set outcome.
What was the population studied?
Patients – All patients under 16 years of age admitted to PICU or a general ICU with a principle diagnosis of either sepsis or septic shock. These patients were compared with the larger group of patients admitted with invasive infections (± septic shock).
Outcome measure – The primary endpoint was 30-day mortality. This data was available for 100% of the patients.
How is paediatric sepsis currently defined?
The 2005 (!) international pediatric sepsis consensus conference defines severe sepsis as…
Sepsis plus cardiovascular organ dysfunction OR acute respiratory distress syndrome OR two or more other organ dysfunctions
This definition doesn't exactly roll off of the tongue. What severe sepsis therefore amounts to is hypotension (<5th percentile for age) OR vasopressor use OR hyperlactataemia.
What were the results?
Over the 4 year study period 42,523 patients under the age of 16 were admitted to ICU.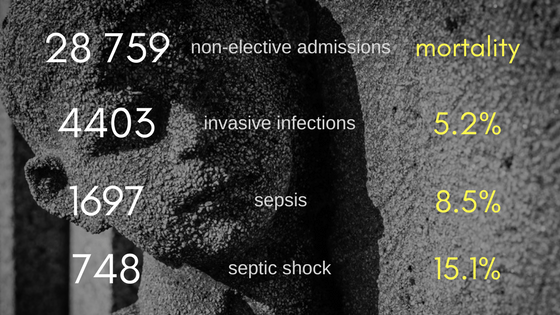 If you look at those deaths related to sepsis/septic shock then there appears to be an error in the manuscript (to me at least, please feel free to correct me). For all patients with sepsis the median time from ICU admission to death was only 1.9 days, with 36.8% dying within 24 hours and 50.7% within 48 hours. The authors then state that in patients with septic shock and no co-morbidities the median time to death was 16 hours with 54.5% dying within 24 hours and 72.7% within 48 hours. This seems highly counter-intuitive to me. I would expect patients with co-morbidities to die sooner. Why might those children with co-morbidities last longer? The pre-specified co-morbidities include prematurity, congenital heart disease, chronic respiratory disease, chronic neurological disease and immunosuppression.
Mortality was also independently correlated with lactate on presentation to the ICU. A lactate of ≥2, ≥3 or ≥5 mmol/l was associated with an adjusted mortality of 7.4, 8.4 and 9.5%.
What were the authors conclusions?
There is no current gold standard for the identification of sepsis and so the authors tried a number of methods, including multivariate logistic regression, to come up with a mortality prediction instrument. To do this they used data from time of first face-to-face contact between the patient and a doctor form ICU, or arrival of the PETS/NETS team to one hour after arrival in the ICU. The researchers found that the following markers were the best predictors of mortality.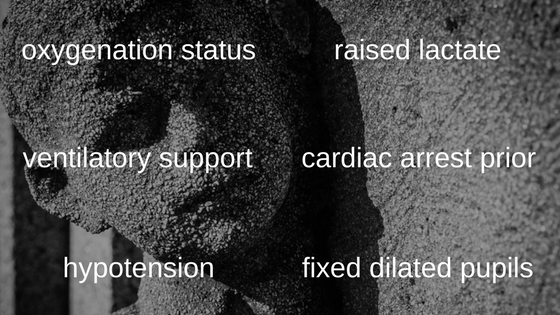 With 3 out of 4 previously healthy children dying within 48 hours of admission, early identification of those most at risk of death might be beneficial and help identify those patients in which alternative therapies, such as ECMO, may be of use.
What other PICU scoring systems are out there?
There are a few more scoring systems out there, other than SOFA, that have been shown to have a good correlation with each other. They include:
PRISM III – Pediatric RiSk of Mortality
PEMOD – PEdiatric Multiple Organ Dysfunction scoring system
PELOD – PEdiatric Logistic Organ Dysfunction scoring system
PIM2 – Pediatric Index of Mortality2
What does this actually mean to me, in practice?
I don't see many sick septic children in the emergency department. I don't think introduction of a paediatric sepsis score based on the above variables would make a difference to my practice. I hope that if I was looking after a child that had arrested and had fixed, dilated pupils I would recognise that they were very, very sick indeed.
This study is based on ICU, rather than combined ICU/ED data. It would be interesting to know what the time frame was from time at triage to time to be seen by ICU/transferred and if this has an impact on mortality.
Singer M, Deutschman CS, Seymour CW, Shankar-Hari M, Annane D, Bauer M, Bellomo R, Bernard GR, Chiche JD, Coopersmith CM, Hotchkiss RS. The third international consensus definitions for sepsis and septic shock (sepsis-3). Jama. 2016 Feb 23;315(8):801-10.
Goldstein B, Giroir B, Randolph A. International pediatric sepsis consensus conference: definitions for sepsis and organ dysfunction in pediatrics. Pediatric critical care medicine. 2005 Jan 1;6(1):2-8.
Rady HI, Mohamed SA, Mohssen NA, ElBaz M. Application of different scoring systems and their value in pediatric intensive care unit. Egyptian Pediatric Association Gazette. 2014 Dec 31;62(3):59-64.
Ha EJ, Kim S, Jin HS, Bae KW, Lim HJ, Seo JJ, Park SJ. Early changes in SOFA score as a prognostic factor in pediatric oncology patients requiring mechanical ventilatory support. J Pediatr Hematol Oncol. 2010 Nov;32(8):e308-13. doi: 10.1097/MPH.0b013e3181e51338. PubMed PMID: 20818274.