Here at Don't Forget The Bubbles we are huge proponents of FOAMed.  It is our raison d'etre. Information that is stuck  behind paywalls will inevitably take time to trickle down to the practitioner who has piles of plastic wrapped journals sitting in their in tray still waiting to be opened, let alone read.
Combining traditional textbooks with on-line resources such as podcasts and blogs makes sense as a way to stay ahead of the curve and to keep up to date.  It can be a challenge to know what to read and there are many great articles to read to help you plunge deep move on from unconscious incompetence to a more conscious form of competence. Read Nat May on dealing with Information Overload over at St Emlyn's.
One barrier to keeping up to date can be access to the latest articles, outside of the institutional framework.  The Journal of Paediatrics and Child Health have recognized this and are carrying out an amazing experiment this month.  Every day, for thirty days, they will tweet out one article and make it free to download.  Yes, free!
Let's make publishers understand the power of the #FOAMed movement.  By downloading the articles you are showing them that the Free Open Access Medical education  model is something worth pursuing.
So follow @JPCHonline to find the article of the day – and tell them DFTB sent you.
Update November 2016
The Journal of Paediatrics and Child Health are keen to share the results of their endeavour. Take a look.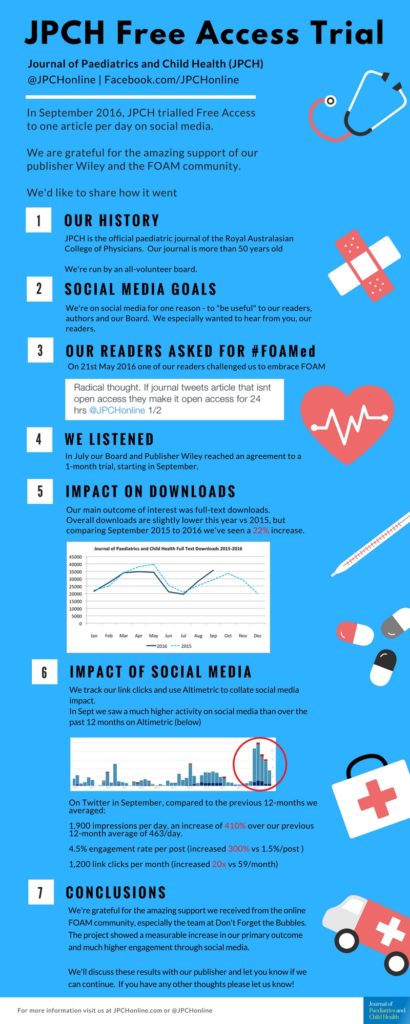 (Editors note – we have no financial conflicts of interest to declare in promoting this endeavour)