Back in 2016 the Journal of Paediatrics and Child Health tried an experiment. Every day they tweeted out an article link that was valid for 24 hours. You can read about it in this early edition post. We know that the current publishing system is flawed and with the majority of papers hidden behind paywalls how can we keep up to date? Like Trump's proposed Mexican border wall, there will always be ways around these barriers – but what can us law abiding citizens do?
For a publishing house the bottom line will always be in terms of downloads, or pageviews. It will be about the number of people (or institutions) that are willing to pay for an article. For the author though, it is about something else. It's about making sure that the time they spent on ethics committee approvals and data gathering and literature reviewing is actually appreciated. Perhaps the researcher's koan is "If an article is not read, does the result matter?"
It seems that this month long trial in the JPCH was a success.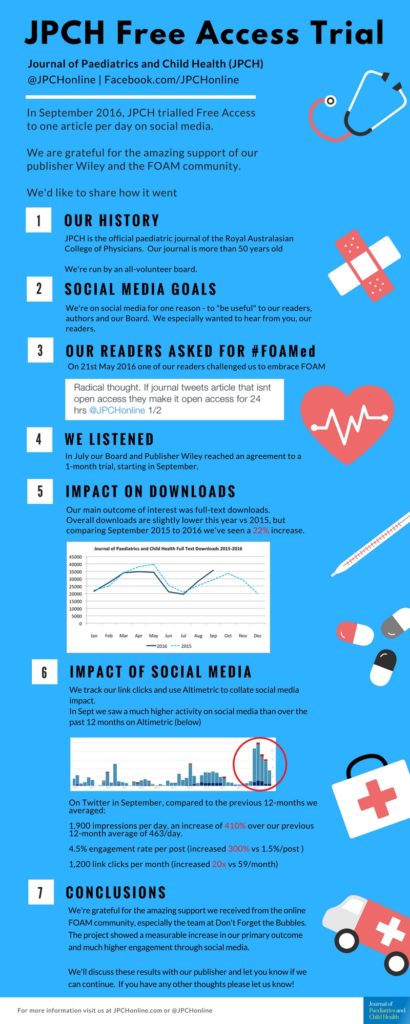 The teams at Wiley and the RACP have looked at the data – the huge upswing in page views and reader engagement – and have decided that this model of publishing is something worth pursuing. From the 1st of March the JPCH will share out an article a day on social media and the article will be free (for that day). Universities are still going to be paying their subscription so the back-catalogue will be available via your usual channels, but this new model of knowledge dissemination might just help cut down that knowledge translation window.
Follow the Journal of Paediatrics and Child Health on Twitter to get your daily dose of paediatric papers and come along to DFTB18 in August to hear more from Chris Elliot and Julia Ballard.