This week Lieutenant General David Morrison AO (Retd) has been invited to my healthcare to a give a talk on workplace bullying and harassment.  Earlier this week I wrote about the pervasiveness of childhood bullying and asked you all to reflect on what it might mean for us at work. In light of recent findings in Ballarat changing culture becomes even more important.
Who is David Morrison?
Former Chief of Army Lieutenant General David Morrison AO (Ret'd) is an outspoken opponent of gender bias and discrimination. He is famous for this speech…
"The standard you walk by is the standard you accept"
What do we mean by workplace bullying?
In this post I am going to concentrate on bullying rather than sexual harassment. Though I absolutely do not want to make light of this very important topic, as a privileged white male it is not something I have first hand experience of. Others, including the erudite Ash Witt, have a much better feel for this.
In this discussion bullying means discrimination, unjustified criticism, verbal threats, undue pressure and having jokes made at someones expense.
How common is it?
Despite legislation bullying and harassment is endemic within the culture of medicine. It is unlawful to treat someone differently on account of their sex, age, race, age or because they are pregnant or disabled.
A survey of the Australian medical workforce over 2008-2009 reported that a quarter of respondents had suffered from repeated episodes of bullying and harassment. Senior doctors (including consultants and registrars) were the perpetrators in 44% of cases.
It must also be remembered that doctors are not the only bullies (or victims) in the healthcare system. All strata of hospital life may be involved – from higher managers to nurses and orderlies – nobody is immune.
Is it specialty dependent?
The recent RACS EAG reported that surgical trainees have a markedly higher incidence of bullying than those in medical specialties. In a similar way that childhood bullying may be, in part, due to socio-cultural expectations, the increased incidence of bullying among surgeons may be due to its roots in a patriarchal hierarchy.
No specialty is immune to bullying though general practitioners experience lower levels than non-GPs. This may between junior GP's an their supervisors or between practice managers and reception staff.
Is it related to year of qualification?
One landmark study from 1990, reported in JAMA, found that 46.4% of students at one medical school had suffered bullying at one point or other during their training and by the time they had finished it was up to 80.6%. If such a high percentage of students leave medical school as victims of abuse does this set up doctors to become perpetrators of a cycle of abuse in a horrific bastardization of the old "See one, Do one, Teach one" model of pedagogy?
For those of us that supervise medical students it is worth considering this. Ignoring them or telling them to go away continues the negative cycle. It's not the professional behaviour that we want to instill in those coming in to the profession.
What is it about the workplace culture that allows bullying to continue?
When I wrote about bullying in schools I talked about the participant roles of bystanders. As well as the bullies and victims there are:-
Assistants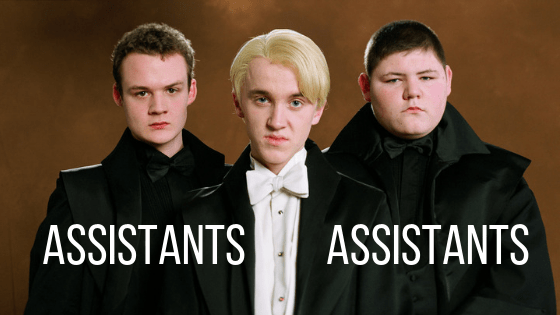 The assistants are the Crabbe and Goyle to the bullying Malfoy. They join in the fun and help out with the bullying. Whilst the bully is often readily identifiable in the workplace the assistants are not so common.
Re-inforcers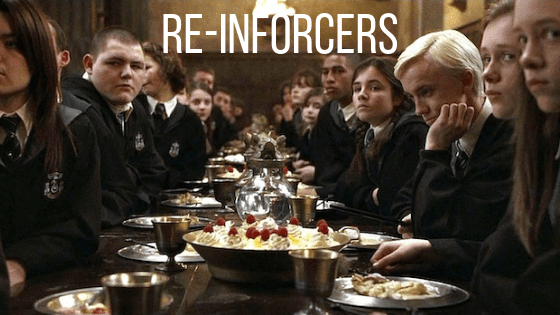 The re-inforcers laugh and point fingers , providing social reinforcement like the rest of House Slytherin. At work these are may be the rest of the firm that laugh at the consultants inappropriately sexist or racist jokes. These ethical chameleons (according to Brainard) agree with everything their seniors tell them, cut corners and cover up minor errors and because of this, unfortunately, are seen as more professional than those who display honesty.
Outsiders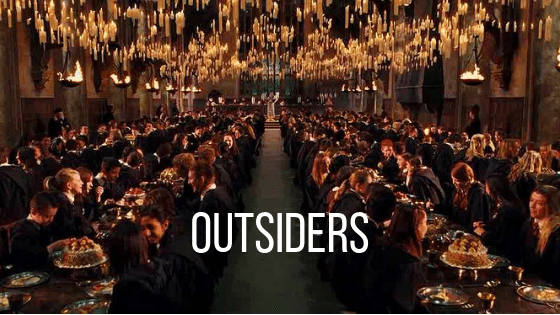 The Outsiders try and keep away and say nothing. Their silence acts as tacit approval of the act of bullying -most of Harry's classmates.  Who are the outsides in the workplace?  Sad to say this role is the one most of us fall into. Perhaps out of fear or ignorance we do not stand up when we should.
Defenders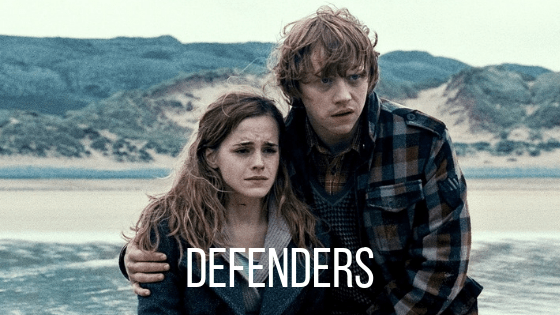 Defenders take a stand against what is wrong, comfort and try to stop the bullies. There is no better example of this than Hermione and Ron. Bullying and inappropriate behaviour will always exist unfortunately.
What impact does bullying and harassment have?
On the individual
We've already talked about the impact of bullying on individuals when talking about schoolchildren.  In adults it may also lead to psychological harm with poor self-esteem, anxiety and depression lading to an increased risk of suicide. It may also impact on a person physically with higher rates of sick leave in victims.
On the workplace
Aggressive behaviour has been linked with poor transfer of information and trouble within teams. This is not good for patients. The larger impact that bullying has is that it normalizes it and so Outsiders are less likely to speak out.
What can be done about it?
When we looked at data from bullying in children we saw that there was little change in bullying year on year unless a system wide intervention takes place and no change in participant roles unless there is a culture change. Moving the victimized student into a new class does not solve the problem.
With most involved in the bullying process (even as Outsiders) then interventions need to be directed towards changing the group and not the individual.
AMA Victoria is helping develop the AMA Standard that will set the benchmark for workplace behaviour. The cornerstones of this will be:-
Raised awareness
Accountability and voice
Training and education
Alignment
As seniors we must be sensitive to the cries of our junior colleagues. Many of us have had no formal training in receiving or handling complaints and so we should ask our healthcare trusts to provide us with all of the resources we need to handle such issues in a non-judgemental manner, acting as advocates for those that need u.
Bottom line

It is okay to speak up and speak out. If you witness bullying, in any off its forms, it is your moral duty to pluck up the courage of Neville Longbottom and stand up for what is right.
Resources
Royal Australasian College of Surgeons Expert Advisory Group on discrimination, bullying and sexual harrassment
Royal Australasian College of Physician standards an behaviours
References
Silver HK, Glicken AD. Medical student abuse: incidence, severity, and significance. Jama. 1990 Jan 26;263(4):527-32.
Brainard AH, Brislen HC. Viewpoint: learning professionalism: a view from the trenches. Academic Medicine. 2007 Nov 1;82(11):1010-4.
Askew DA, Schluter PJ, Dick ML, Régo PM, Turner C, Wilkinson D. Bullying in the Australian medical workforce: cross-sectional data from an Australian e-Cohort study. Australian health review. 2012 May 25;36(2):197-204.
Sutton J, Smith PK. Bullying as a group process: An adaptation of the participant role approach. Aggressive behavior. 1999 Jan 1;25(2):97-111.