Welcome to this edition, which will keep you way ahead of the curve with a run down of the newest and very best Paediatric Emergency Medicine #FOAMed material from around the world.
Back after a little summer break, here are a few great recent paediatric FOAMed creations that I have to share with you. I hope there will be something here to catch your eye, whether you're a new paediatric trainee or a hardened EM doc: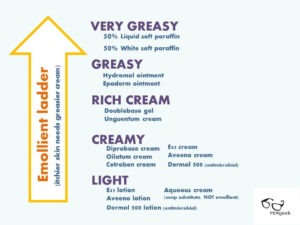 1. Ecz-ellent emolients: out-of-control (not necessarily infected) eczema is a pretty common reason for ED attendance, and it's horrible to see these children driving themselves (and their parents) mad with scratching. Here (picture above) is a useful reference guide to help you step up emollient treatment during a flare up – the itchier the skin, the greasier the cream you need to prescribe.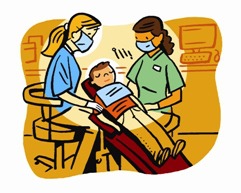 2. Feeling sleepy? This is a brilliant, simple two-page summary from @TREKKca with solid guidance on how to deliver safe and effective procedural sedation for children in the ED. Includes some really important tips to think about before you even go near the drug chart.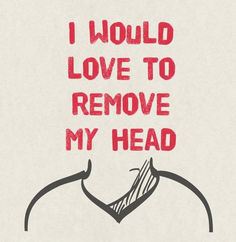 3. Migraine: migraine is sometimes thought of as more of an 'outpatient' diagnosis, but having a strategy to deal with acute migraine attacks in the ED is important. After ruling out any acute neurological deficits (!) remember the fluids and anti-emetics…and try to stay away from the opioids. Summary courtesy of Dr Delphine Huang on @ALiEMteam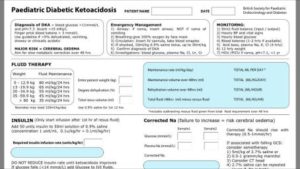 4. New DKA fluid guidelines: BSPED (British Society of Paediatric Endocrinology and Diabetes) have recently changed their fluid guidelines for management of paediatric DKA, and have produced a helpful fluid calculator resource (click for interactive .pdf) to help with potentially difficult calculations. Tap in some numbers, and up pop your fluid and insulin infusion rates, and a corrected sodium level. You can also print it out to keep in the patient's notes.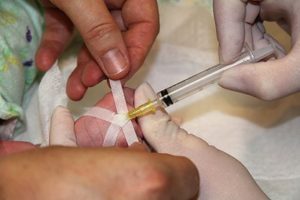 5. Little pricks. Ever wondered how anaesthetists somehow manage to find that vein that has eluded everybody else? Some pros share their closely guarded secrets: paediatric anaesthesia blog com has an absolute goldmine of tips for cannulation (several tried and tested successfully by myself recently – well worth a go).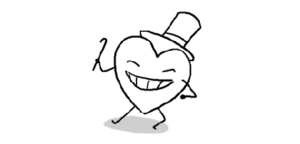 6. Ice, ice, baby… neonatal SVT – (who is more tachycardic right now, you or the baby?) If the answer is the former, read this case study on @tamingtheSRU for some management tips. Follow the APLS algorithm and know where your department keeps the ice! The article includes an interesting Q&A with some cardiologists from Cincinnati Childrens Hospital (@cincychildrens) regarding more advanced management, electrical and chemical cardioversion.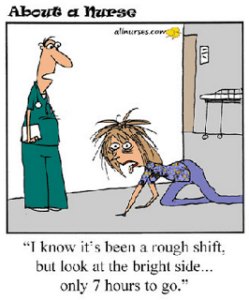 7. Night shifts: love or hate them, night shifts are an unavoidable part of working in emergency medicine. ERcast's podcast discusses some of the best ways to cope, before, during and after the shift… and some things which really don't help (listen from 20 mins 45 sec).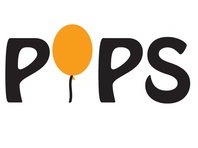 8. Top of the POPS: Finally, a paediatric early warning score (article @ADC_BMJ) that's actually designed for use in ED – the Paediatric Observation Priority Score (POPS) system has undergone a successful large scale trial (over 24000 patients). The majority of patients (16475) had a POPS score of 0; of these patients 4.8% were admitted to hospital, and only 11 children discharged with a score of 0 returned later to be admitted and needed further definitive management. A previous study (@EmergencyMedBMJ) also showed that POPS could accurately predict 85% of children who could be discharged from ED. Hopefully use of tools such as this will start to become much more widespread.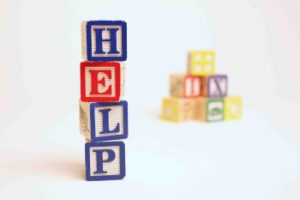 9. Recognising child abuse in the ED: more often than not (especially during the summer months), the ED is heaving with children who have sustained some kind of injury. Usually there is an innocent explanation (involving gravity and an over adventurous spirit?) but as doctors working in children's ED the possibility of abuse, possibly presenting with non-accidental injury, should be in the back of our minds. This podcast from @RCEMLearning gives a solid introduction to the topic, discussing types of presentations that may raise suspicion, and what steps to take next if you are concerned. A must-listen for all ED doctors.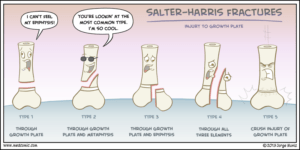 10. Salter-Harris factures. Another memorable illustration from @medcomic… I also like the mnemonic SALTER:
Type 1 Slip (separated or straight across)
Type 2 Above, or Away from the joint
Type 3 Lower
Type 4 Through Everything
Type 5 Rammed (crushed)
Like what you've seen, want more? Follow me on twitter, and check out PEMgeek.com for a growing library of curated PEM resources.
See you next month