One question I am asked almost every day at work is whether to give paracetamol (acetaminophen) or ibuprofen to reduce a childs fever. Today's paper takes a look at just that question.
Before we take a closer look at the paper though, please bear in mind that I am not advocating that we should give anti-pyretic agents to all children with a raised temperature. It's hard enough working out if their temperature is up in the first place without considering if reducing the temperature is of any benefit. Here's the article from this months Journal of Paediatrics and Child Health…
Narayan K, Cooper S, Morphet J, Innes K. Effectiveness of paracetamol versus ibuprofen administration in febrile children: A systematic literature review. J Paediatr Child Health. 2017 Apr 24. doi: 10.1111/jpc.13507. [Epub ahead of print] PubMed PMID: 28437025.
Before jumping straight to the conclusions we need to check out the rigour of the literature review. I was taught, and use, the AMSTAR checklist. This is Assessing the Methodological quality of SysTematic Reviews.
What are the items on this checklist?
Was an 'a priori' design provided?
Not stated
Was there duplicate study selection and data extraction?
Once the initial screening had taken place two authors assessed the full-text articles for relevance. If there was any disagreement a third reviewer dived in and gave their opinion.
Was a comprehensive literature search performed?
At least two electronic sources were searched – CINAHL Plus, Cochrane Library, Web of Science, EBM Reviews, OVID Medline, SCOPUS, The Joanna Briggs Institute and my personal favourite, Google Scholar. The search was limited to papers from 1994 to 2014 (when the data search took place). The initial search managed to identify 3023 papers. After all the duplicates were taken out there were 2914 papers for perusal. The investigator then took the time to weed out 2842 papers just by looking at the titles. All in all 8 papers were identified that met the study criteria.
Search terms were stated in Table 2 of the article but did not appear to include the American spelling of paediatric (though this might be a typographical error). Studies were limited to those published in English.
Was the status of publication (e.g. grey literature) used as an inclusion criteria?
No mention was mentioned of searching the grey literature, consulting with topic experts or searching for conference abstracts though the authors did go through the references from previous papers.
Was a list of studies (included and excluded) provided?
It would be completely impractical to provide a list of the 3023 papers examined but they do provide a list of the included papers as well as those excluded after full text review.
Were the characteristics of the included studies provided?
Yes. Table 4 provides the basic details of the papers and Table 8 provides the more important data regarding sample size, drug dosage, means of temperature measurement as well as degree of fever reduction.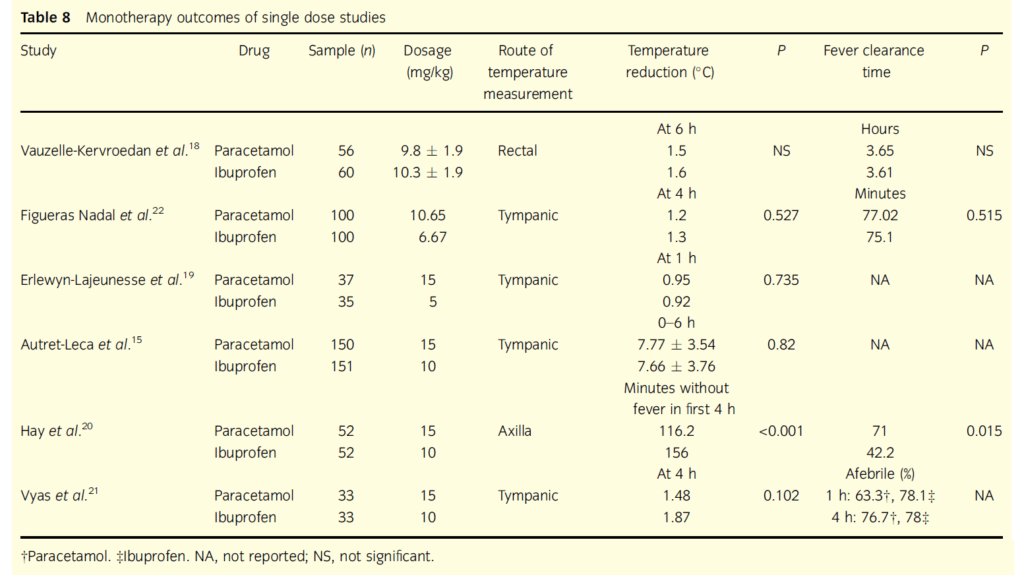 If you look at these single dose studies you should immediately notice the heterogeneity not just in dosage but how temperature is measured.
Was the scientific quality of the included studies assessed and documented?
Only RCTs were included in the search and a quality appraisal using a pre-determined strategy was undertaken.
Was the quality of the included studies used appropriately in formulating conclusions?
The heterogeneity of the studies was mentioned in the conclusions though the individual quality (very low,low, medium, high) was not mentioned.
Were the methods used to combine the findings of the studies appropriate?
There was no pooling of data. Looking at the data it is easy to see why. There were different doses, different means of recording temperatures and different outcome measures. The authors, therefore, provided a more narrative based conclusion.
Was the likelihood of publication bias assessed?
No
Was the conflict of interest included?
None were mentioned, in relation to the individual papers, or those performing the search. I doubt Big Pharma are overly interested in either of these agents.
So, for the bottom line, what were the results?
There was very little difference between either paracetamol or ibuprofen to reduce fever in the studies included. The authors conclusion that either agent is equally effective but, inevitably, recommends further research with a larger study population.
Given this clinical equipoise there is a place for a group such as PECARN, PREDICT or PERUKI to finally answer the question.
What does this mean for me in practice?
If you have to suggest something then you can be happy recommending either agent to parents perhaps guided by something more important, such a taste.
What about alternating between the paracetamol (acetaminophen) and ibuprofen?
A 2013 Cochrane review looked at this very subject. At that time they found 6 studies that took a look at this treatment regime. It is important to remember that the outcomes of any meta-analysis are only as good as the trials that are entered – the 'garbage in, garbage out' principle. All of trials were of very low, low or moderate quality. Giving both agents together seemed to result in a lower temperature at one hour than a single agent alone. The mean difference was only 0.27°C with pretty broad confidence intervals (0.45 to 0.08 degrees).
If they were given alternating treatments – paracetamol then ibuprofen, for example – then the mean difference at one hour was 0.6°C (with 95% confidence intervals of -0.94 to -0.26 degrees. More important than the potential drop in temperature though was the potential effect on child discomfort (what I like to call 'grumpiness', a core measurement that parents care about). Alternating therapy was associated with lower mean pain scores over a 72 hour period.
Is there any difference in the safety profiles of the two drugs?
If either drug is administered, in the therapeutic dosage range, then there is no statistically significant difference in adverse events between either agent. Kanabar provides a good review of the literature in a recent edition of my favourite beside reading – Inflammopharmacology.
I've spent a bit of time looking at the primary literature and I think it is important to point out the heterogeneity in dosing regimes.  I've seen paracetamol doses range from 10 to 20mg/kg and ibuprofen range from 7.5mg to 10mg per kilo. If you are comparing efficacy of the two agents then a clinically appropriate dosing strategy should be used.
Shea BJ, Grimshaw JM, Wells GA, Boers M, Andersson N, Hamel C, Porter AC, Tugwell P, Moher D, Bouter LM. Development of AMSTAR: a measurement tool to assess the methodological quality of systematic reviews. BMC medical research methodology. 2007 Feb 15;7(1):10.
Narayan K, Cooper S, Morphet J, Innes K. Effectiveness of paracetamol versus ibuprofen administration in febrile children: A systematic literature review. J Paediatr Child Health. 2017 Apr 24. doi: 10.1111/jpc.13507. [Epub ahead of print] PubMed PMID: 28437025.
Wong T, Stang AS, Ganshorn H, Hartling L, Maconochie IK, Thomsen AM, Johnson DW. Combined and alternating paracetamol and ibuprofen therapy for febrile children. Evidence‐Based Child Health: A Cochrane Review Journal. 2014 Sep 1;9(3):675-729
Temple AR, Zimmerman B, Gelotte C, Kuffner EK. Comparison of the Efficacy and Safety of 2 Acetaminophen Dosing Regimens in Febrile Infants and Children: A Report on 3 Legacy Studies. The Journal of Pediatric Pharmacology and Therapeutics. 2017 Jan;22(1):22-32.
Vyas FI, Rana DA, Patel PM, Patel VJ, Bhavsar RH. Randomized comparative trial of efficacy of paracetamol, ibuprofen and paracetamol-ibuprofen combination for treatment of febrile children. Perspectives in clinical research. 2014 Jan;5(1):25.
Jayawardena S, Kellstein D. Antipyretic Efficacy and Safety of Ibuprofen Versus Acetaminophen Suspension in Febrile Children Results of 2 Randomized, Double-Blind, Single-Dose Studies. Clinical Pediatrics. 2016 Nov 20:0009922816678818.
Langhendries JP, Allegaert K, Van Den Anker JN, Veyckemans F, Smets F. Possible effects of repeated exposure to ibuprofen and acetaminophen on the intestinal immune response in young infants. Medical hypotheses. 2016 Feb 29;87:90-6.
Kanabar DJ. A clinical and safety review of paracetamol and ibuprofen in children. Inflammopharmacology. 2017 Jan 6:1-9.