DFTB17 has been and gone. We were really happy with how much you all embraced what we were trying to do and just enjoyed yourselves. It seems like we have set a high bar for next year, and so we want to do as much as we can to make DFTB18 excellent.
Damian Roland's post on DFTB17 shows a very flattering view of how much people enjoyed it (thanks @damian_roland), but we know there is room for improvement, and have been pouring over your feedback. We have listened, and are still listening. Here's some of your constructive comments…
---
Content
Your comments:
More clinical content.
Avoid style over substance.
Our response:

This is a difficult balance and many people commented that they liked having non-clinical plenaries and clinical concurrents, and felt we had the balance just right.

Overall, we think you would prefer more clinical sessions so will try to get this better next year. There will still be plenty of non-clinical content, but we will ensure there is enough clinical content for those who prefer this throughout the conference.
Your comments (through chatting to people rather than the survey):
Lots of people are asking about having more gen paeds/community/psych content.
Our response:

We felt/feel that we can't be all things for everyone. And if we try to cover lots of community paeds then the content will be spread too thin. We chose to be an acute care paediatric conference that also covers general paediatrics. We are trying to ensure there is more general paediatrics for DFTB18 which may include some psych content. Please get in touch with us at hello@dontforgettheconference.com if you have any good ideas.
Your comments:
We should give more information about the topic title. Some people felt they didn't really know what the talk was before it started.
Our response:

We will look at making it a bit clearer on the program. We tried to give eye-catching titles, with a subtitle that explained what the topic would be, but will try to add a line in the programme for DFTB18 to explain more clearly what the talk with be about.
---
Speakers
Your comments:
You were generally happy with the range of speakers. A few people mentioned trying to get more General Paediatricians as speakers.
Our response:

We are always open to speaker suggestions, so if you know anyone who would be good, or you want to pitch yourself then get in touch.
---
Food
Your comments:
People were very pleased with the range and volume of food, but many people were concerned that there were lots of leftovers and wastage.
Our response:

The venue donates all leftovers to the food bank. We should have thought to tell you this at the beginning, sorry. Will make sure we check this out and let you know in advance for next year.
Your comments:
There were plenty of requests for more fruit and more healthy options in general
Our response:

We had some fruit but completely underestimated how many people would want it. We will make sure there are healthy options and fruit next year, and will try to reduce the carb load.
---
Gifts
We gave you a programme, a pen, a fidget spinner, and some bubbles at the beginning. Speakers got a water bottle as a thank you gift.
Your comments:
Some people felt they didn't need any gifts and would prefer the option to donate to charity, there were a few requests for a bag, and requests for some notepaper
Our response:

We were trying to give you all something nice, without going nuts on giving you too much rubbish/wastage on arrival. I think overall people were happy with this.
---
Venue
Your comments:
Some of the concurrent sessions were overfilled i.e. the rooms couldn't accommodate all the people that wanted to attend
Our response:

We struggled to anticipate beforehand which sessions would be popular but tried to correct this by switching some session rooms around on Day 3, which seemed to help. Next year we will try to plan this better.
---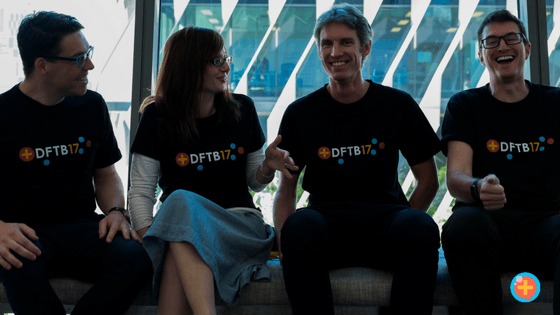 Key requests overall:

more clinical content but still keep a good amount of non-clinical
more general paediatric content
more information about the talk content
get more general paediatricians involved
continue with patient/family input
more healthy food options
We are starting to plan the program for DFTB18 and are considering all your content suggestions, but if you have any more ideas then please email us hello@dontforgettheconference.com