By means of performance enhancing substances (caffeine) we made it to the final sessions of #SMACCdub – voices somewhat subdued by trying to converse at the gala dinner, held in the historical Guinness Storehouse. The pains of struggling bandwidth were ameliorated  by a drop in attendance.
An all female panel took to the stage for the first plenary of the morning on moving 'Beyond the Ivory Towers'.
The internationally renowned author of the FEAST trial, Kathryn Maitland, began the morning reminding us of the enormous burden of disease in sub-Saharan Africa. With up to 70% of pneumonia related deaths occurring in SE Asia and Sub-Saharan Africa there is a clear need for simple, pragmatic guidelines to improve mortality.  Resources that we take for granted such as monitoring and oxygen therapy are in low supply. With clinical signs a poor indicator for the need for ongoing oxygen supplementation a number of inappropriate children receive supplemental oxygen.  Initiatives like Lifebox may help.
Whilst there is a state of equipoise in the use of oxygen therapy in such a population it is an area ripe for study. But oxygen is expensive and can take up to a half of Professor Maitland's drug budget and so nurses have to become resourceful. It must also be pointed out that oxygen alone cannot fix ventilatory failure.
Nikki Blackwell of Brisbane and ALIMA then came on stage to tell us what it is really like working in a resource poor setting. Working in environments ravaged by war, disease and hunger emergencies (there is food but not in the right places) she has seen a rise in 'humanitarian action as a response to political failure'.
"The key is bringing up healthy, well adjusted people that care about justice and social equity"                                                                                                          Nikki Blackwell
With fewer resources available there are less problems with iatrogenically introduced disease and children can have remarkable recoveries once attention is paid to the basics such as hygiene and nutrition. By making their own hand gel sanitizer they were able to drop infection rates and also increase buy in – a problem that we all face. She also described how African mothers were able to assess their own children for malnutrition and that by using locally made products such as PlumpyNut – a combination of peanut butter and milk powder – huge gains could be seen for a few cents.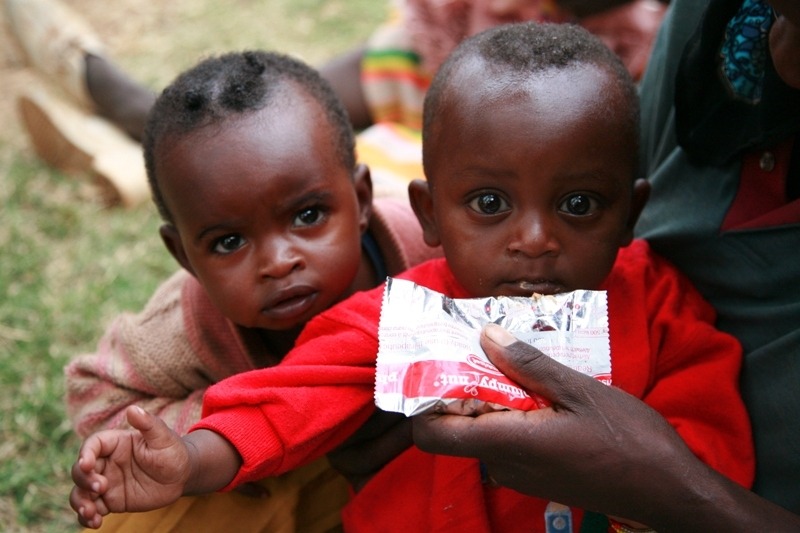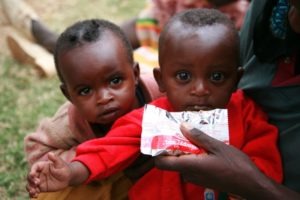 Ashley Shreves, an emergency physician with a passion for palliative care told us her origin story and spoke about how the ever revolving cast of players can derail one person's perfectly constructed end of life plan. Having reinforced the concept of having a good death it is worthwhile reflecting on Greg Kelly's superb talk from SMACC Gold.
Following on from last years talk on looking after ourselves Ashley Liebig bravely described how he completely went against her own advice after dealing with a heartbreaking paediatric trauma.  We are all consummate professionals but sometimes a misjudged word can throw our our world into a tailspin.  We need to be kind to our colleagues, and ourselves.  Often those that work in Ivory Towers have no concept what like is like 'out there' – be it in a small country hospital or at the roadside.  So the next time you think to yourself, "Why didn't they do….?" just stop. They may not have the resources or the skills available to do the things you almost take for granted. Put yourself in their shoes for once and…
"Treat others how you would like to be treated yourself"
After catching up with friends both old and new Henry and I took the stairs to the paediatric session, chaired by Nat May.
After her earlier talk on oxygen therapy, Kath Maitland, moved from breathing to circulation and the role of blood transfusion in Africa. As well as pneumonia profound anaemia (Hb <6g/dl) is another high cause of mortality in sub-Saharan Africa with up to 10% of children dying in hospital as a result and a further 12% dying in the six months after admission. This anaemia is multifactorial with sickle cell disease, infection and nutritional deficiencies all playing their part.
The ongoing TRACT trial looks to see what volume, if any, of blood makes a difference. With current WHO guidelines suggesting transfusion at haemoglobins less than 4g/dl (or 6g/dl in the presence of comorbidities) there is little relevance to patients in the developed world but this is still very important work indeed. We expect to hear some answers in the next few years.
As we discussed at the pre-conference paediatric workshops it can be near impossible to spot the sick child. We are all scared by what we may miss and Simon Judkins recounts one such event in Real ED stories.  Sure we could rely on tests and biomarkers but in end speaker Ffion Davies urges to go back to basics and think of the physiology of the child.  It is easy to try and rationalize abnormal results but tachypnoea is the most sensitive sign of badness.   Doctors often just look at the admission observations but we remember "Observation is an intervention"and get them checked more than once and be very wary of sending home a child with abnormal vital signs.
Whilst biological parameters such as pulse, blood pressure or oxygen saturations are almost fixed with little room for interpretation what is more problematic is how we think when dealing with children. The majority of the kids we see in the emergency department are well so our immediate cognitive disposition to respond assumes that every child we see is well rather than considering the worst possible outcomes.  Remember that children are just little adults (though babies are another species entirely) and are incredibly resilient.  If a child appears well they probably are and if they appear sick they certainly are but it is those children in the grey zone that Ffion focussed on.
The only man on in the session (minus Casey Parker moderating), Tim Horezcko, took the stage to bust some paediatric myths – or pediatric myths as he spells them. He really elucidated what all of us really felt inside:-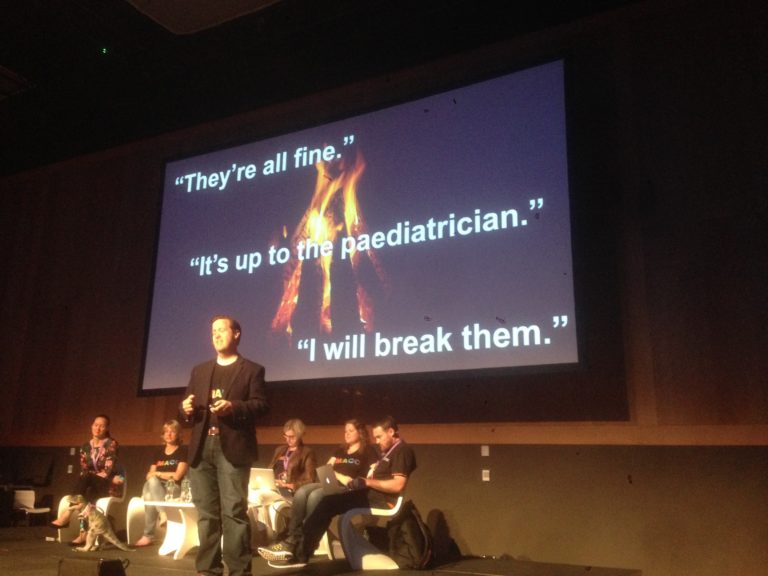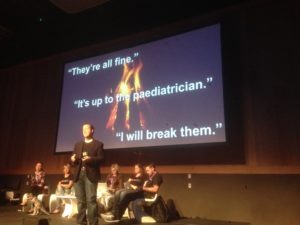 His talk will be up online shortly.
The final talk of the morning was by EMBRACE consultant, Hazel Talbot (Ed. note COI to declare Hazel was two years below me at the best medical school ever – CXWMS). She told us that babies are not small children but an entirely different species that tries to survive no matter what we do.  She explained the concept of the evil fairy that sneaks into the back of every helicopter or ambulance when we go on a retrieval mission with the sole intention of creating chaos where once there was calm.  She is not so powerful when the team have rehearsed together practicing accidental intubation drills in the back of an ambulance but she is always ready to sprinkle some fairy dust on the child and muck things up. But remember sometimes it is not the equipment that is wrong but the child.
Both Henry and I met some wonderful people over out four days in Dublin. We finally met people we have been chatting with online for years and would happily call out friends. We met people we have never met before but who inspired us both. And we finally said hello in person.
So if you missed out on SMACC this year and think it is the sort of conference you would like to go to but are concerned that there is not enough paediatrics then check out www.dontforgettheconference.com. The Don't Forget The Bubbles team have listened to you all and are hosting a conference in Brisbane at the end of August 2017. Book your leave now!
If you enjoyed this post, why not check out our online courses at DFTB Digital