The Social Media And Critical Care conference has always held a special place in our hearts at Don't Forget The Bubbles.  It was shortly after the inaugural Antipodean extravaganza that the seed was sown for this website.  After going live in 2013 we have grown from a team of four people with a shared vision for paediatric pedagogy to a truly collaborative team. In 2017, SMACC becomes #dasSMACC as it moves to Berlin and we are proud to be an affiliate website.
What makes SMACC different?
SMACC is focused on being a Conference truly for the delegates. Delegates have a say in every aspect of the meeting, including the speakers chosen, program topics, theming and styling, social events, and the questions asked in sessions. This level of delegate interaction with the conference is unparalleled in critical care and has led to innovations across the entire event including the increasing level of female faculty, the provision of on-site child care and the phenomenal #smaccByte competition.
There have also been many positive lessons learned from the FOAM world, which have now been translated into the SMACC Conference. Lessons on how to engage, inspire and make critical care education enjoyable. They keep the talks short (15-20 minutes), choose the topics carefully, handpick speakers who we know can both educate and inspire, and discourage reliance on power point presentations. Of course, all the sessions are recorded and podcast to be released in a FREE series – creating more great FOAM!
But SMACC isn't just about the academic presentations. SMACC is an experience. The opening ceremony, the theming of the exhibition hall and welcome events, the teas and lunches provided in the breaks and the massive Gala night, all of which are included in the one registration price.
If you want to see what Henry and I thought of #SMACCDub then take a look here…
True to SMACC's passion for innovation #dasSMACC in Berlin promises to push new boundaries in critical care education. They have chosen an unlikely venue in the Tempodrom, for this conference, but one they are sure will be our most inspirational venue yet! The Tempodrom is more commonly known for hosting concerts but SMACC will transform the stage for critical care education. Berlin too, is a fitting city for the SMACC community. It has a modern feel, vibrancy, progressive attitude, edginess and disarming openness that towers above its complex history.
So if you want to go then fire up your computers and get ready to type…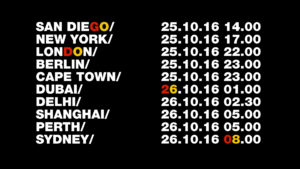 And remember, it's not just the conference that is full of educational goodness.  There are tonnes of workshops to choose from taking place the afternoon before the conference.  Why only the afternoon before? Well, in the morning we hope you will join myself, Tessa and Natalie May at #SMACCmini. Anyone that looks after 'die kinder' should come along.
The creative minds behind SMACC, Chris Nickson, Oli Flower and Roger Harris have been kind enough to support and guide us through our endeavours and without their help setting up our own conference would have been so much harder.
And if you want to get into the mood then take a listen to Dusseldorf's finest…