From 130 teams we are down to the final four. Watch them battle it out for victory on Friday 15th May at 11am UK time / 8pm Syd/Melb time /10pm NZ time.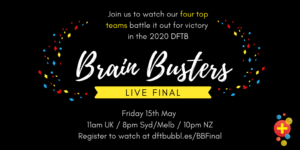 Salisbury Paediatric Warriors (Captain – Chris Anderson)
Cardiff PPE (Captain – Hannah Murch)
The Leftovers (Captain – Julie Mott)
Universally Challenged (Captain – Will Carroll)
You will need to register in advance for access to join the audience and cheer them on. Please complete the form below to register.